A Successful Run
Senior Aaron Thomas Breaks Boys Cross Country 3-Mile record with a time of fourteen minutes and thirty-eight seconds.
Fourteen minutes and 38 seconds. That's how little time it took senior Aaron Thomas to break the cross country three mile boys' school record at the Woodbridge Invitational on Sep.16.
Thomas, who placed ninth overall in the Boys' Rated Varsity race, has "been aiming to break the school record since last year."
"It was amazing, which is ironic because I was not feeling good during the race," Thomas said. "Even though the race was hard, it was a great experience because I saw my teammates cheering me on, and I finally achieved something that had been a big goal of mine for a while."
The race's lead group ran its first mile at four minutes and 30 seconds, was "very challenging" for Thomas due to its intensity.
"We went out a lot faster than I expected to. Once I saw the first mile time, I tried to control my breathing and get back in the zone. I did my best to stay consistent because I didn't want to drop down in the race. The second mile was a little rough because it had a bunch of loops. But, I got through it due to my teammates' shouting and encouragement," Thomas said. "For mile three, I was holding on for dear life. Once I saw the clock at the last 50 meters, I made one last push and sprinted to get under the record."
Thomas "specifically targeted" breaking the record on the Woodbridge course as it "was the perfect setting to break the record." This is due to the invitational's high level of competition that "pushed him" and the course being almost completely flat as opposed to the normally hilly courses the team runs. 
To achieve his goal, Thomas intensified his training regimen. Starting this summer, Thomas upped his weekly mileage from 40 miles per week to 60 and increased the pace he ran his workouts at. For instance, he ran his six mile tempos, endurance workouts where one continually runs for a specific distance at a 5 minute, 20 second mile pace. His teammate, senior Jack Humphrey, saw Thomas' improvement as they trained together.
"Considering the success Aaron's had in past years, and the training he put in throughout the summer and the weeks before Woodbridge, I never doubted he was going to break that record," Humphrey said. "I was in the same race as he was. When I finished I was very dizzy and light-headed, but I saw the joy on his face, and we celebrated. It was great seeing someone so close to me, especially Aaron since we trained together all summer, accomplish something so significant." 
Though Thomas already achieved his primary goal for the season, he plans on improving his time by running under fourteen minutes and 30 seconds for the three mile event. He also hopes to break the five kilometer school record and help the team make state championships for the second year in a row.
"We still have a long season ahead of us and we're just getting into the most important part of it," Thomas said. "I was very happy with how the whole team, and I have performed and I hope to keep the momentum to continue improving."
Leave a Comment
About the Contributor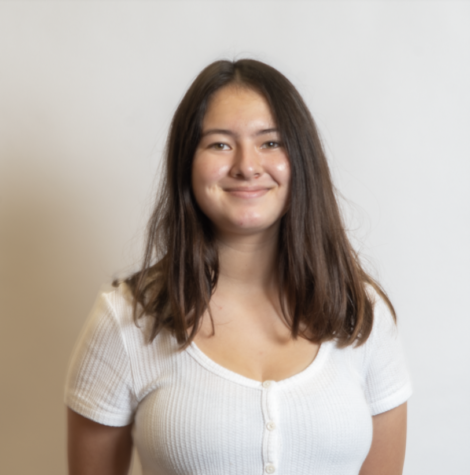 Sara Miyake-Singer, News Editor
I hope to be successful enough so that one day future AP Lang students will have to analyze whatever I say.