Soaring with Spirit
With stands filled and social media accounts gaining traction, spirit radiates throughout RUHS with The Flock voted #1 student section in L.A.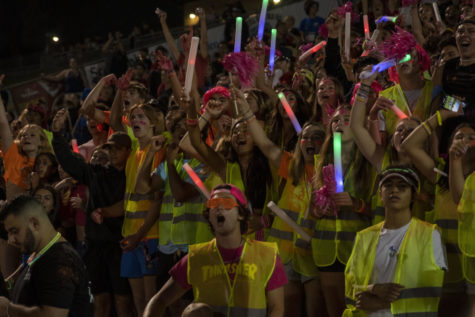 At every home football game, a moderately sized portion of the stands gets reserved for the marching band. Now, an even larger portion of those stands goes to the student section (The Flock), which has now expanded itself all the way to the top of the home bleachers of the Sea Hawk Bowl during football games.
The Flock won best student section in Los Angeles county by The Student Section Report for Redondo's home opener against Torrance High School on Sept. 3. As a result, they competed for Southern California Student Section of the Week, gaining second place and winning 36% of the votes. As of Sept. 21, they are currently in the running for top spot in Southern California again after the football game against Paramount. Head Hawk Mele Corral-Blagojevich attributes their major improvement in the turnout to an increase in ambition before the season.
"Even though it was a weird rebuilding phase last year, we reflected upon things we could have done better. We worked really hard during the summer to set things up for this year, so getting recognized for it after just one home game felt really great," Corral-Blagojevich said.
One of the Flock's main jobs is to ensure that people are enjoying themselves and staying present at the games. To do this, they hired senior Justin Romero, known as Postman Cinco, to DJ the football and volleyball games, not only to keep the fans hyped throughout the games, but also help control the crowd.
"The thing we really like about him being at the games is that he proves to be really supportive," Corral-Blagojevich said. "If students are getting too rowdy, and ASB can't get them to calm down, he will have our back and be like, 'Hey, listen to ASB.'"
Another activity for the crowd that ASB promotes are dress themes for football and volleyball games. However, some of the more niche football themes were changed to provide easier student access after the success of the "Red Out" theme in the home opener.
"We want to do themes that are fun, but also themes that everyone can dress up for. We don't want to have everyone needing to go to the store to buy different stuff for games each week because that gets old pretty fast," Corral-Blagojevich said.
The students engaged with the "Red Out" theme, but a true test to see how committed students are to their school spirit comes with how they handle rain. The Flock's turnout and enthusiasm on "tropical night" during the tropical storm on Sept. 9 exceeded ASB President Reece Cartee's expectations.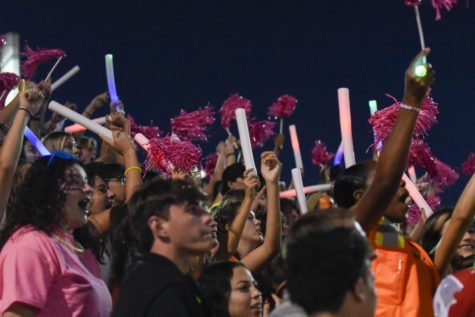 "I felt so much pride when I saw that everyone was staying and embracing the rain instead of leaving," Cartee said. "If anything, I saw more people come in and the reaction was oddly celebratory."
While making the games more fun to attend proves to be important in increasing attendance, ASB has also made an effort to also increase their advertising quantity and quality in the form of hype videos on Instagram and TikTok, edited by Cartee herself.
"We want to use our established platforms like Instagram, but we want to promote it differently," Cartee said. "We want people to see our videos and think, 'Wait, that actually looks really fun, we should go to the game this week.'"
Kickstarting a passionate year so far, Cartee credits the new ASB advisor, Lisa Hedspeth as a "lead motivator" in their school spirit and production.
Formerly at Villa Park, where she recalls often getting recognized for their good student sections, Hedspeth brought new ideas to the Flock including pushing a bigger social media presence and ensuring that a DJ comes to the games.
"I told them that they gotta follow these steps that I've discovered and I guaranteed them that people would come to the games," Hedspeth said. "Redondo already has a great community, and I want to establish a legacy here."
Hedspeth sees The Flock and ASB not just as a unit that helps the fans, but the teams as well. A win for an RUHS team with high spirits in the bleachers is a win for ASB, further making every win feel like a win for the whole school, according to Hespeth.
"ASB is the heartbeat of the school," Hespeth said. "Everyone has to believe in what we are doing, because Friday nights are about more than just football. The cheer team, band and guard all play big roles in keeping everyone invested in the game, so we are rooting for them, too."
Leave a Comment
About the Contributor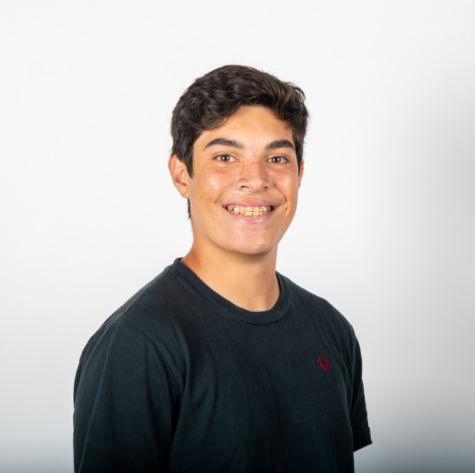 Ty Soria, Sports Editor
So excited to be in my 4th year in High Tide and second year sports editor. I play football and throw shot put and discus for the school and play lots of other sports as well. Come to the sports debate...