Holy Cow!
Surprisingly simple and authentic, Holy Cow BBQ is the newest place to stop.
At 7 p.m. with the temperature somewhat cooling off during a blazing Labor Day weekend, barbeque sounded like a perfect option. Located right next to the Riviera Good Stuff location, Holy Cow offers a walk-up ordering format with both indoor and outdoor seating. Being a fairly new chain with locations in Santa Monica and Culver City, the facade has a modern and metallic look that draws the customers' eyes toward the kitchen. 
Holy Cow's menu not only offers a wide variety of choices in terms of meat, but it's served in a variety of ways, including p pulled pork, tri-tip, wings, brisket and chicken, with many sandwich options with those meats as well. Most options come with sides. The people who may be tired of french fries can order sides such as Kettle Beans, Smashed Taters, and the House Slaw among others. I ordered a barbeque plate, and I got to choose two meats. I selected pulled pork and tri-tip with a side of Smashed Taters, which came to a fair cost at just over $25, taxes included. 
 The restaurant  possesses a fast-food paced experience in terms of the speed we received  our food, but the quality of the service was a sit-down restaurant. The wait staff proved to be attentive as they checked in with us even after we had our food and offered to take our plates as well.
As they brought out the barbeque plate with the nice little tray, it felt like I was receiving a birthday cake but without the awkward singing. Just me, my trusty fork and knife, and the food. The meat and side also came with pickles and a Holy Knot, which was not shaped like a garlic knot, but tasted just as good, with just a little extra grease. The pulled pork had a satisfying texture: not too juicy and messy but also not dry at all. Dipped in the Carolina Mustard, it brought a tart flavor to it. The Q Sauce at each table also added lots of flavor that never took away from the flavor of the meat, and it tasted more sweet than sour. The tri-tip was slightly dry, but dipping the slightest amount of Carolina Mustard or Q sauce will eliminate that problem instantly. 
As for dessert, I ordered their banana cream pie for $6, one of five different pies, and it came out in a little cup to enjoy. Topped with toasted almonds and a wafer, the banana cream pie's soft texture closed off a quick and enjoyable meal. With somewhat limited barbeque options in Redondo Beach, Holy Cow BBQ can satisfy anyone's barbeque craving during  hot weather, and its format is well suited for groups of friends after hitting the beach or biking down the strand.
Leave a Comment
About the Writer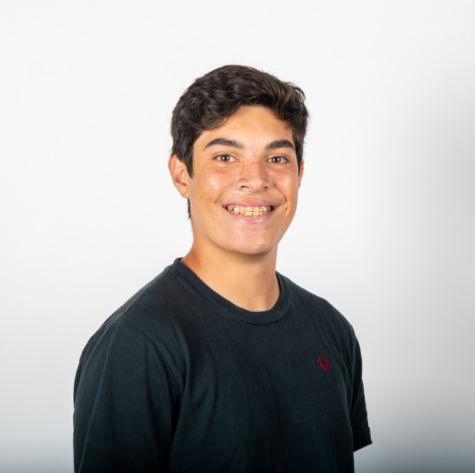 Ty Soria, Sports Editor
So excited to be in my 4th year in High Tide and second year sports editor. I play football and throw shot put and discus for the school and play lots of other sports as well. Come to the sports debate...