Morning Mayhem
Students and staff reflect on the shelter in place order on Aug. 26, 2022.
A shelter in place order was announced on campus over the loudspeaker on August 26 at 8:15 a.m. According to the Redondo Beach Police Department (RBPD), a caller alleged to have seen a homeless man wielding a knife on Pacific Coast Highway near the school. However, RBPD reports that it is possible the object could have been a stick that the caller misconstrued for a knife. The caller reported the man around 30 minutes after seeing him, and by the time RBPD arrived at the school, there was no sign of the man, so the report could not be corroborated.
 Teachers, including Emily Hannigan, a Geometry and Pre-Calculus teacher, ushered students into their rooms  immediately.  Although the specifics of the possible threat were unknown at the time, protocol had to be maintained until the administration said otherwise.
Hannigan's classroom is directly opposite the RUHS entrance on Vincent Street and El Redondo Avenue. After the announcement, Hannigan was "flustered" but not "scared for [her] safety." 
A shelter in place order indicates that the possible threat to the school is in the surrounding area and not an "imminent danger," according to Hannigan. Activities in class may also continue unless instructed otherwise. During a lockdown, normal school-day activities cease as there is a threat to students and staff actively on campus. 
Junior Sophia Grabher was starting her day as usual, waiting for class to start in her car in the parking lot on El Redondo Avenue. She then received the "scary" and unexpected "don't come in, stay in your car" text from her friend. 
"I was really confused, then I started seeing a bunch of people getting turned away from the gate," Grabher said. "And then I was scared because my friends started saying it was real and my first thought went to a school shooter. I was just concerned for my sister at Parras and my friends in their zero periods."    
Freshman Emi Wessel, on the other hand, experienced the surprise events of the morning with no fear whatsoever.
"I thought it was a drill at first, so honestly I didn't really care," Wessel said. "My teacher explained and said it was just some homeless guy. He was chill about it. But I know some people were more scared because they thought it was an actual lockdown."
"Since I wasn't in school and I didn't have a zero period I felt really out of the loop," Grabher said. "That made me even more worried about what could have happened. I'm sitting in my car thinking people are dying in my school right now. I was so relieved that I was wrong."
Leave a Comment
About the Writer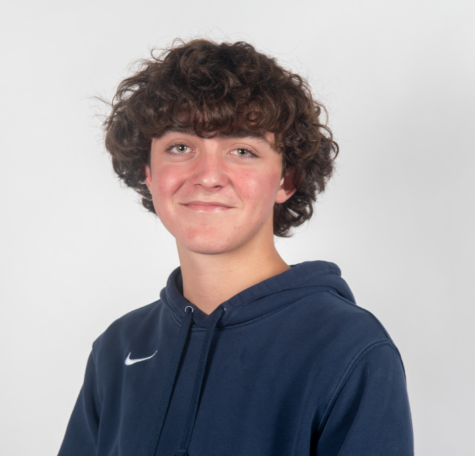 Ethan Lerner, Writing Editor
Hi! I'm Ethan, I'm a junior and this is my third year on staff but first as a Writing Editor. Outside of school I like to be outside of school.