Fine Tuned
Choir students sang group and solo pieces while performing maskless for the first time since the pandemic started
On April 21, RUHS Choir performed their first unmasked in-person concert in more than two years—since the beginning of COVID-19. Taking place in the RUHS auditorium from 7-8 p.m., a total of 15 songs were performed by various levels of the choir.
RUHS Choir teacher Aaron Duncan-Schwartz directed the Spring Concert, which consisted of 5 comprehensive levels of RUHS choir, each with their own disciplines. 
"We cover a lot of different stuff. We work to build up the students' musicianship and vocabulary for music as we study these individual pieces," Duncan-Schwartz said. "Some pieces are focused a lot on rhythm, and some pieces are focused on addressing different aspects of choral singing."
 From the start to the finish, the Combined Choir sang three songs, the Beginning Choir sang one song, the Bass Choir sang one song, the Treble Choir sang one song and the Seahawk Singers sang two songs. This made for a total of eight pieces within the different levels of the choir.  
"I try to make sure that all of the music we are doing is somewhat varied from different parts of the world," Duncan-Schwartz said. "Different cultures, different outlooks and backgrounds. As well as vocal challenges."
The concert started off with the Combined Choir, with all 42 people enrolled in the class performing "Sing Gently" by Eric Whitacre, a composer famous for the imaginative projects he creates. Whitacre composed this particular song during quarantine with the compiled recordings of thousands of people part of a virtual choir. This setup is similar to that of the RUHS Choir performances during COVID-19. 
"The message is the idea of hope and singing together," Duncan-Schwartz said. "For quarantine, it was a very impactful piece so I wanted to include it."
According to Duncan-Schwartz, teaching history and the stories embedded within a song and the meaning behind the music is essential as it allows the audience to connect more with it. 
"That's probably one of the biggest things that we, as musicians, especially in choir can miss, is the idea of the history and cultural context of these pieces. Music, especially choir, and vocal music in general, is about storytelling. So, the stories and the messages are just as, if not more, important than the actual music itself."
In addition to the five choirs, there were eight soloists featured throughout the concert, each performing one song. This number of soloists surpassed those at previous concerts. These soloists served as the break entertainment, performing as other choirs set up for their performance. The soloists were seniors Meriel Klinkner, Anthony Villanueva, Zoe Scherer and Allisun Hand, juniors Caelia Vallejo, Natalia Chazaro-Bravo and Thatcher Horrocks and freshman Sloane Graham. 
Junior Natalia Chazaro-Bravo, who has been in choir since freshman year, performed her piece, "Stand Up" by Cynthia Erivo, which marked the first featured solo of her singing career. In this performance, Chazaro-Bravo also put her own spin on the song.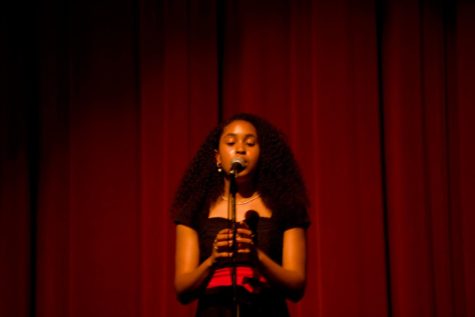 "This song was specifically a song that I've wanted to perform for a long time," Chazaro-Bravo said. "I decided to do a track instead of accompaniment, so I mixed together what portions of the songs are probably the most prominent rather than the repeated parts."  
This approach made Chazaro-Bravo's piece different as a track is a composition of parts of a song edited together for a singer to sing to while an accompaniment serves as more help to the singer since it provides more "back-up" to the singer's voice. Each soloist had their own spin on the pieces they performed and each did it in different ways. 
Even for people in choir, such as freshman Kathryn Salazar, the songs performed by the soloists were newly heard pieces of music.
"It was amazing to hear them because we never really get to see that when we're practicing our own pieces. So, just getting to sit down and see what they've put so much time and effort into and getting to hear it was really cool," Salazar said.
Salazar performed in the Combined Choir, Beginning Choir and Treble Choir, doing five songs total. This served as her first unmasked concert and second overall.
"For me, it's just that I want to perform to the best that I can," Salazar said. "Being able to sing with other people who enjoy the same passion for music and singing and making something with all these moving parts is my favorite part as you hear the pieces come together."
The Spring Concert served as an important moment to the choir members as it gave them the opportunity to perform the songs they had spent multiple hours on, according to Salazar. 
"Being on stage, performing, doing what you've practiced so hard on is really nice because you get to share what you've been singing, not only with the rest of the choir, but with the audience. Most of our songs, we sing them because we want to make an impact on people," Salazar said. 
Music has long since been a beacon of hope and inspiration and that resonates with many in the RUHS Choir, such as Salazar.  
"I just hope to see the choir community grow and I would love for more people to join and be involved in choir because it's really an amazing experience," Salazar said. "For me personally, I just hope to learn more about music and experience more songs because getting to learn all these new pieces to tell so many stories really is amazing."
Leave a Comment
About the Contributors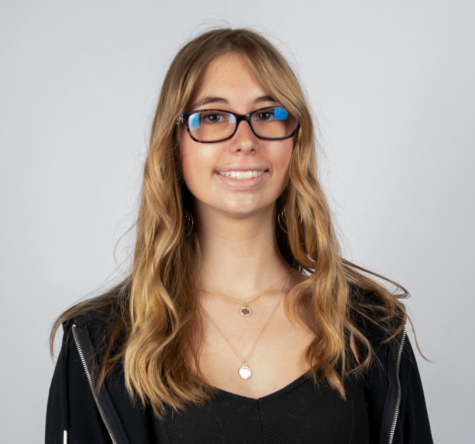 Marley Van Pelt, Features Editor
Hi! My name is Marley Van Pelt and I am a Features Editor. This is my second year on staff. I love to read, write, and hang out with dogs (so, if you have a dog, let me know).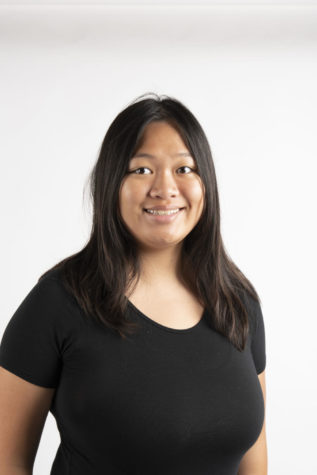 Meagan Ching, Photographer
Hi! I'm a senior, and this is my first year as a publications photographer, but I've been into photography all throughout my high school career. My biggest weaknesses are free food samples and NBC sitcoms.