March Madness
Coach sophomore Colina Chia and team captain senior Lucas Schmidt lead team "Nikola Jokic" to victory in RUHS basketball competition
Betting on a friend seems like more fun, but when it comes to RUHS March Madness teams, it's all about who has the best probability of winning. At RUHS, students form teams to compete for the top spots in the bracket to see who takes it all.
Senior ASB athletic director Miguel Mier helped orchestrate and plan the event to make it enjoyable for RUHS students. As the student running athletics for ASB, Mier was at the top of his game to make sure things went smoothly.
"I would say that March Madness went pretty well this year. We've had a couple close games where the [referee] calls were really polarizing and it's been really exciting," Mier said. "The goal of this event was for people playing and people watching to have fun and we hope we achieved that goal. Thankfully COVID didn't affect much, so we were able to keep things running the same."
Mier believes that the team could have improved on clarification and team management.
"I would say we did an awesome job. It was hard keeping track of everyone's names and knowing where they were supposed to be, but we did it," Mier said "[The team] Nikola Jokic had done a great job throughout the whole thing and had amazing leadership from coach Colin Chia and team captain Lucas Schmidt."
Junior Aidan Kwan, captain of the runner up team Flim, was more than excited to play against his friends and participate in the school spirit.
"Playing with my team has been surreal. On the court, our energy was unmatched and we played amazing basketball. Off the court, we were severely dedicated, discussing our game plans, game planning for the next game and I can't praise my team enough. The most exciting part about this was winning with my friends while we played against other friends," Kwan said.
Despite coming in second, Kwan was satisfied with how Flim played throughout the week, and was happy for his friends who took first place.
"I'm happy with how it ended, my team really exceeded expectations and Schmidt ended up getting a big win before he goes off to college. I was hoping we'd win, but we'll definitely be back next year."
Senior Lucas Schmidt, team captain of Nikola Jokic, brought home the gold and won first in the tournament, beating 15 other teams.
"The most exciting part about this was the close games we had and the adrenaline of the scores being so close," said Schmidt. "It was awesome playing with my team, and there was no way we could've won it all without each other. They really stepped up big in every game and I really appreciate them for that."
Although Schmidt and his team stole the show with their plays, there were a few hardships to get around along the way to their victory.
"The hardest part about March Madness was making sure all my teammates would show up to school and coordinating my team. Some of the players couldn't play because they had practice or had other prior plans, but thankfully some of my teammates from basketball were able to step up and play with us. It felt great to win the whole tournament, especially with the team I had," said Schmidt.
Leave a Comment
About the Contributor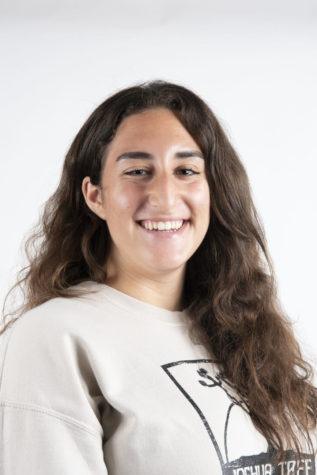 Lara Magdesian, Staff Writer
I'm a senior at RUHS who's interested in writing and broadcast media. This is my first year on the staff.