Won't give up
Boys' lacrosse focuses on working hard and staying motivated for their upcoming game
On Friday, Mar. 25, the boys' varsity lacrosse team lost their home game against Peninsula High School with a final score of 8-3. 
For sophomore and long-stick midfielder Henry Kissinger, the main challenge was difficulty retrieving the ball in the face-offs. This gave Peninsula a leg-up before many plays as they got automatic possession of the ball. 
"I wanted to win going into it. We shot ourselves in the foot this game, and I'm disappointed in the results," Kissinger said. 
Sophomore and midfield player Ethan Enriquez attributes the challenges of this game to multiple team injuries, leaving a handful of their strong players out of the picture. 
"Last game I actually got hit and my calf was displaced out of my leg. The game was kind of rough, especially since we're missing players," Enriquez said. "I went into it knowing that this would be a rough game, which turned out to be true." 
Despite this, Enriquez finds that his team succeeded in pushing themselves to "continue working hard even when [they] were down [a few] people." 
"It wasn't the greatest game, but we were mentally engaged and we tried our best to work together," Enriquez said. 
After a tiring game, Kissinger admits staying motivated was difficult, but emphasized the importance of "keeping the energy up and trying to score." Enriquez felt similarly, saying the team tried to "keep each other hyped up and hoped for the best." 
"It's important to stay motivated. Sometimes we'll scream or play music in the locker rooms, and that really helps us keep going," Enriquez said. "Next game, we'll work harder and focus better than before."
Leave a Comment
About the Contributor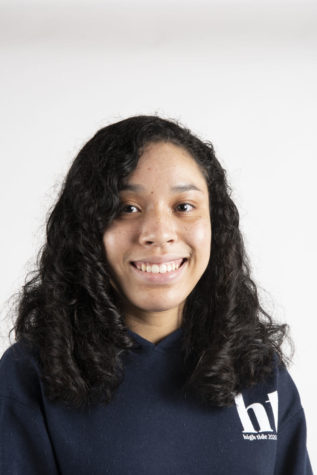 Mia Dowdell, Features Editor
Hey! This is my third year on staff and my second year as a features editor. Some of the things I love include reading, listening to music and watching TV shows.