"Who Cares?" Review
Rex Orange County's third studio album is a fun, lively celebration of self-discovery and artistic freedom
I'm proud to say that the Rex Orange County "Pony" tour was the last concert I attended before lockdown and his new tour will be my first one back. It's nice seeing how things come full circle like that. It seems very fitting to the theme of his new album "WHO CARES?" released on March 11, 2022. Alex O'Connor aka Rex Orange County has been making music from a very young age starting when he was around 16. His lyrics have always had a consistent theme of self-doubt, self-awareness, or feeling madly in love. This album is no different but there is a sense of maturity and relaxation along with it. 
In an interview with Apple Music, O'Connor talked about how he struggled a lot during lockdown just like the rest of us. As soon as restrictions were lifted he and his friend Benny Sings packed up and drove to Amsterdam for a few days. The point of the trip was to just get away from reality for a while but the two ended up right back where they started 4 years ago and made music together. Benny Sings and Rex Orange County worked together to make Rex's breakthrough track "Loving is Easy" back in 2017 and have had a special musical connection since. Rex describes them as being "cut from the same cloth". This full-circle moment set the tone for the album they were about to unintentionally create.
Rex's choice to title the album with a double entendre was his way of addressing his attitude towards his music. On one hand he makes music for himself and tries to not let others opinions destroy his love for the art. On the other hand he's calling out to the world seeing if there is anyone who cares as much as he does. Rex in the entirety of his discography is constantly having internal battles about why he's really making music and if it's worth it in the end. During an interview with radio host Zane Lowe, Rex mentioned that he made this album simply to fall back in love with writing songs. During the pandemic he had gone through a huge break-up and felt unmotivated to create anything. The trip to Amsterdam enlightened him and as a result he made an album as a message to himself. 
Upon first listening to "WHO CARES?" I could already tell this was classic Rex with the orchestral build-ups and a combination of bedroom pop, soul, etc.. The first song on the track is titled "KEEP IT UP" which Rex described as being some kind of affirmation for him. Of course the song starts with a majestic string quartet which Rex does in a lot of his songs but a majority of this album started with something similar. There was a certain point where that got to be too repetitive until track 6. "IF YOU WANT IT" combines that Romantic-era classical with more electrifying synths. This mixture of multiple genres within one song is a key quality of Rex Orange County. Taking that into consideration, the song still felt out of the box for Rex which clearly shows his growth as an artist over the years. "MAKING TIME" was another one of those songs that felt new while still giving me nostalgia about his earlier work. The whole song sounds dream-like with an echoey presence and muted vocals. 
This obviously would not be a true Rex Orange County album without confessional love songs and I loved how he mentioned the duality of love. "AMAZING" served as a celebration of love and completely admiring your partner while "THE SHADE" addressed the anxiety of not knowing whether or not the other person feels the same way. Even though Rex's songs are often about love in some sense many fans, me included, were surprised by the songs in this album. 
After his break-up Rex had no presence on social media and virtually disappeared for a while. Fan understood why because his last album "Pony" was entirely dedicated to how his now ex-girlfriend saved him and was his number one supporter throughout his career. When word got out about the split most people expected a really painful album talking about his heartbreak. When "WHO CARES?" was released, it was clear Rex wanted to move beyond that. 
In the last song of the album, which shares the same name as the album itself, Rex begins with the phrase "first time I tried this I was free of doubt, I had no fear, why can't I just do it again?" The rest of the song acts as an internal monologue about how he's finally about to achieve everything he dreamed of when he first started making music but fear is holding him back. He finally comes to terms with the fact that the fear of nobody hearing him is unrealistic because he has millions of adoring fans who care about what he has to say in his songs. 
He ends the album by saying "There's really no point living in fear, I wanna be happy too, I know what I'm supposed to do, now that I know who cares". These lyrics really sum up his self-discovery journey. He claims that without taking time off to reflect on himself, there wouldn't be any music for fans to enjoy. He had to learn how to enjoy making music again first. "WHO CARES?" is obviously not Rex's best album so far but it shows his journey through bettering himself. This album was meant to prove to himself that people care about his work just like he does and he makes music for a reason. This is what makes the album so lively, hopeful, and just an overall perfect vibe for the summertime. The end of this life-affirming album marks the beginning of a new Rex Orange County. 
Leave a Comment
About the Contributor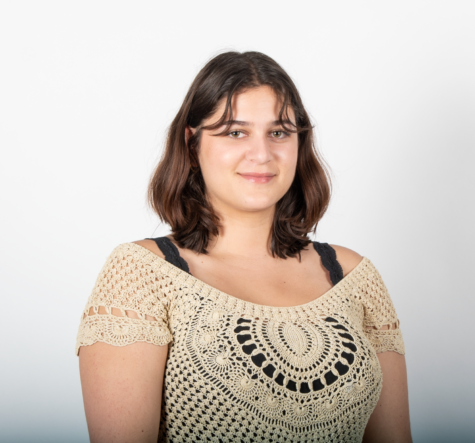 Izzie Escobar, Staff Writer
My name is Izzie and I'm a senior staff writer. I've been on staff for 2 years and it's been a lot of fun. I originally joined because of my obsession with Gilmore Girls and Sex and the City and wanting...