Keeping the streak
Girls' lacrosse keeps up the positive energy in preparation for their game against Palos Verdes following their win against Peninsula on March 15
On March 15, girls lacrosse played a strong game against Peninsula, winning 18-6. The girls continue their undefeated season with an overall record of 12-0. Captain Asija Roberson, senior, believes the girls' next practices are crucial to work on fundamental skills in order to prepare for their game today against one of their biggest rivals: Palos Verdes.
"Against Peninsula, we scored the first goal of the game so I think we got our momentum moving right off the bat. It is easy to stay competitive and in the game when we are making key defensive stops and scoring," Roberson said. 
In practice, the girls do a lot of running and Roberson believes the team's speed on the field is a great component of their successful season so far. 
"The girls put in a lot of work at practice and outside of practice consisting of running drills and stick skills. It's great to see all of that being translated into games," Roberson said. 
According to junior Maxine Hoffman, an attacker, the girls need to improve on staying consistent from start to finish in each game. 
"We need to work on not playing down to our opponents. Sometimes when we play weaker opponents, we will play down and won't play to the best of our ability like we know we can. So we just need to work on staying strong throughout the whole game," Hoffman said.
With Peninsula being the first league game and with a lot of games ahead of them, Hoffman says the competitiveness will ramp up even more. 
"We need to surpass our opponents' energy and effort and really place ourselves on a higher level than them. We have proven in practice and in games that we are a really strong team so we just need to keep proving that in those bigger games coming up," Hoffman said. 
  She believes the best way for the team to work together in games is communication and always being present at every play. 
"We can't stay stagnant. We can't stand around and watch the play happen. We need to contribute to the play, get involved, and do whatever we can to help eachother out," Hoffman said.
The girls play this today against Palos Verdes at Palos Verdes and look to continue the winning streak.
"When you are undefeated, it's easy to get lazy and complacent," Roberson said. "But we need to keep stepping it up every game and looking to improve after each practice and game to be sure we reach our goal of an undefeated season and winning a state championship."
Leave a Comment
About the Contributor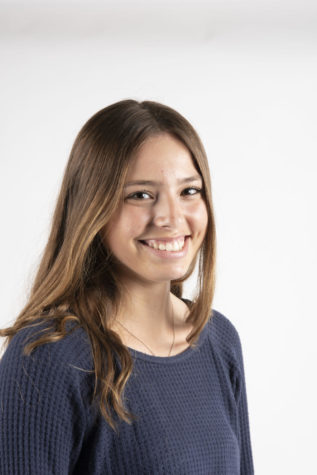 Jess Alvear, Sports Editor
Heyyy! My name is Jess Alvear and this is my third year on staff and my first year as a sports editor! In my free time, you can catch me playing softball and watching The Bachelor. I am so excited to continue...