Academic excellence
Academic Decathlon A team wins second place in Division 2 State competition
After months of studying, practice tests and mock-speeches, the A Team for RUHS' academic decathlon, commonly known as acadec, placed 2nd out of 84 teams in Division 2 of their state competition. Including Division 1, the team finished in 21st. They qualified to compete in State after placing 4th in Regionals this February.
"RUHS made it to State last year as well. It's always a big deal to make it to State, but it's somewhat expected of us at this point," junior team member Theo Danial said. "I think we've qualified every year for at least the past 10 years, and it's stressful, of course, but also motivating to compete on such a historically successful team."
In acadec, students participate in 10 equally weighted events, each scored out of 1,000 points – seven of the events, each with different categories, are scored via multiple choice tests; one requires students to give an interview, one is an essay and, finally, one includes presenting speeches. The highest possible individual score is 10,000, and the highest possible team score is 60,000. RUHS scored 35,770.4, a 105.4 point improvement from Regionals.
"State is more challenging than Regionals, so scores were impacted by the higher difficulty as well as our studying. But the added difficulty and pressure make the competition more interesting and pushes our team closer together, which is why State is so rewarding. So, even though it's only about 100 points, I'd count this small improvement as a win," Danial said.
Junior Laxmi Upadhyaya, captain of the A Team, is also happy with the team's performance at State.
"With the amount of blood, sweat and tears that was put into the preparation of State, I would say that 2nd place is definitely not bad," Upadhyaya said. "I also know that my team and I put everything we had into it, and that is exactly what we got out of it."
However, the team did not qualify to continue to the national competition, which requires a team to finish in the top of its state.
Due to COVID-19, State competition was held online this year and took place over several weeks at the beginning of March.
"When competing online, everything happens over Zoom and the essays are typed instead of handwritten. But competing in person is more fun because I get to feel the energy of other decathletes as I test and give my speech, essay and interview.," Danial said.
But, both decathletes agree that a positive of the State competition was being able to participate in each event over the course of several weeks.
"It is definitely easier to have the events split up because each day focuses on a different skill. The day of subjectives, which is interview and speech, you need to be on your A-game as a 'people-person.' For objectives, the main subject tests, you need to be zoned in on yourself to remember every detail you studied," Upadhyaya said. "Having them all in the same day along with the essay makes it extremely hard on the decathlete, taking away the point, which is to have fun."
Every year, the curriculum is based on an overarching topic; last year, it was the Cold War, and this year, the topic is water. Students must study the curriculum over the course of several months, and learn everything there is to know about it in relation to the 10 categories that will be tested at the competition.
"One great thing about acadec is that hard work visibly and immediately pays off. You study, and your scores go up," Danial said. "Of course, I wish that I had more time to study for the objectives or could have given a smoother interview, speech or written a better essay. But looking back, I see that given the context in which I prepared for the competition, I did the best I could, and I'm proud of that."
The team also finds time to have fun and enjoy each other's company while they compete.
"The best part of competing at the state level is the bonding with the team," Upadhyaya said. "Having that opportunity to study with someone and go through academic hell with them for the reason that you're going to a state competition is a bond like no other. We had tons of fun between tests, shared laughs over how unbelievably hard the math was and danced to the listening section of music."
But the decathletes don't only memorize facts and numbers. They also learn abstract qualities like professionalism, responsibility and persistence.
"One important thing that we learn is the concept of dressing and presenting yourself at a professional level. For speeches and interviews, we need to act extremely mature, and after all the work that goes into preparing for that, it's kind of ingrained into your mind how to act professionally," Upadhyaya said.
The decathletes are "very independent" in their studying and, as a result, get a chance to push themselves to learn these ideas through self-motivation. Still, this doesn't deter the students from continuing to participate in acadec, as most, if not all of the decathletes enroll in the class again each year, according to Upadhyaya.
"Acadec isn't just about grinding out study hours. It's about silly speeches and wild interviews, eating lots of chocolate and making friends and building skills to succeed in normal school," Danial said. "Acadec might seem unapproachable because it's so demanding and rigorous, but it's really not if you don't want it to be. It's a great place to form new connections and anyone can succeed if they have a passion for learning and knowledge."
Leave a Comment
About the Contributor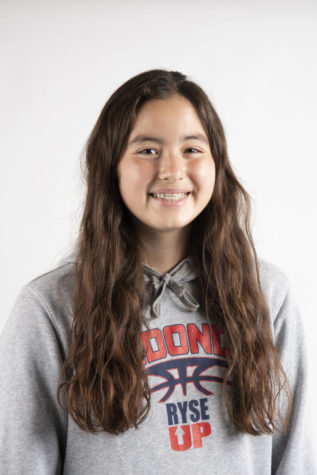 Ria Lopresto, Online Editor
This is my third year on the High Tide. In my free time you can find me baking, playing basketball, reading, or crocheting while I binge Marvel, Friends, and New Girl.