The attendance problem
Many RUHS students and staff have been absent due to the spread of Omicron
As the new variant of COVID-19, Omicron, surged, so did the amount of people in quarantine, with many classrooms across RUHS entering the new year with every other seat vacant. 
On the first day back from winter break, 44 new cases were confirmed among students and staff, and the infection rate rose to 16 percent during the second week of January, according to the RBUSD COVID-19 Dashboard. This was accompanied by a dramatic drop in attendance, due to quarantine, fear of catching the virus, or common illness that would in other circumstances get shrugged off. Some teachers have experienced half of their class gone, and so were out for weeks on end. According to Julie  Rosadini, whose geometry class had 16 out of 35 students absent during the first week back, "it's still at least five or six kids [out]."
"There are students making up homework a week later or some still have not returned. It really impacts and the students feel really stressed out from being behind and being confused and the overwhelming amount of work that they need to do, it's really been tough with the students," Rosadini said.
Rosadini, along with other teachers, use techniques developed during quarantine to minimize the impact of long absences, such as pre-recording lessons and offering tutoring over Zoom. However, this arrangement carries, according to Rosadini, only slightly reminiscent of distance learning "because we still have students in person." 
Freshman Isabella Forbes was absent for the week of semester finals and the week preceding it. According to Forbes, this impacted some of her classes because they lacked online resources.
"By not being there, I would miss some key things. Teaching myself the material was difficult. Studying by yourself helps, but in class you can ask questions," Forbes said.
Not all students were impacted by their long absences. Some did not have to make up work because all of it was online and accessible from home. Sophomore Laney Underwood, who was in quarantine for the first week of January, did not miss any work because it was all online. 
"Thankfully, all work was online, so I didn't really have any trouble with anything. So it was pretty easy to catch up," Underwood said.
The problems that come with an absence get only exacerbated by the arrival of finals. Students absent for finals week must reschedule.
There's light at the end of the tunnel, however. According to the RBUSD COVID-19 Dashboard, COVID-19 infection rates at RUHS dropped to less than six percent on January 25 with 180 total cases, a significant decrease from previous weeks.
Nonetheless, students, at school or at home, continue on despite the disturbance, according to Rosadini.
"The students that are here still focus on learning as much as they can, and they're still working hard no matter the surrounding environment," Rosadini said.
Leave a Comment
About the Contributor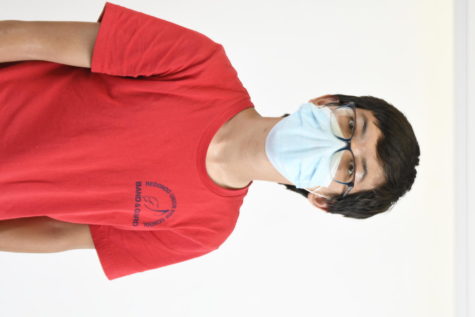 Micah McFadden, Staff Writer





I am in my freshman year, and this ismy first year in the High Tide. I enjoy writing, creating music, and designing games.