Setting the bar high
Tucked away in a corner in the Riviera Plaza and steps away from the ocean, Racer Tea, a newly opened tea bar, has much to offer.
Originally run out of owner Chad Webber's 1975 Dodge van, Racer Tea in its mobile form had the goal of bringing people together during the pandemic to enjoy cups of tea at sunset time.
After hearing that the business also now had a storefront location that opened in December 2021, I was eager to drive down to check it out.
In its brick and mortar form, Racer Tea displays a flashing sign saying 'TEA BAR' in the window and a blackboard out front showing people the way to the entrance. Despite the tea house being slightly hard to find due to it not having an actual sign on the outside top part of the building, I was impressed by the casual and retro vibe created inside.  
As I stepped through the open door and onto the black and white checkered floor, I noticed soft-rock music playing, a row of black high rise barstools and a bluish white neon sign that said 'Make Tea Not War.' A yellow and red neon sign behind that symbolized the same phrase in the form of the AC/DC logo, conveying that though people are capable of bad things, they can also produce much good—this good being in the form of tea.
Before I ordered, I told the nice person at the register that I was writing a review, and he directed me towards Webber to help me pick out the most popular items on the menu. I ended up ordering the Rasta, a hibiscus tea with coconut and pineapple with agave and the Teddy, an English breakfast tea with maple syrup, which Webber told me was his favorite. Both of these teas, made with loose leaves, used natural ingredients and sweeteners. My mom also got the Coffee Puff, a strong coffee dollop on top of oatmilk.
We sat on the black barstools while waiting for and drinking our teas and coffee, and we could see everything being made right in front of us, which I thought was cool.
The Rasta, which was $5.20, was a sweet and refreshing drink served cold. The tart, cranberry-like flavor of the hibiscus tea was perfectly balanced out by the agave, and the vibrant magenta and light purple color of the drink made me enjoy it even more. The Teddy, served hot, was also $5.20. It didn't have an overpowering sugary taste, which was nice. I also appreciated how something as simple as tea with syrup could taste so fulfilling, as the drink had a smooth consistency and maintained its warmth for a long time. My mom's Coffee Puff, which was $6.24, had a nice presentation but she felt that it lacked the stronger caffeinated kick found in other coffees.
While looking around and drinking my tea, I also saw a TV on the wall in front of me playing motorcycle racing, which went along with the motorcycle, retro theme of the tea house, a theme inspired by Webber's love for riding motorcycles.
When we finished our drinks, I was sad to leave the laid back atmosphere created by the shop, but I knew I'd be back to try other appealing items on their menu, which included mainly tea lattes but also coffees, toasts and açaí bowls.
Overall, Racer Tea is a fairly affordable and fun hangout spot to go to during the week and on weekends. A retro tea house like this is difficult to find everywhere else, and I'd recommend anyone looking for a new experience to try it.
Leave a Comment
About the Contributor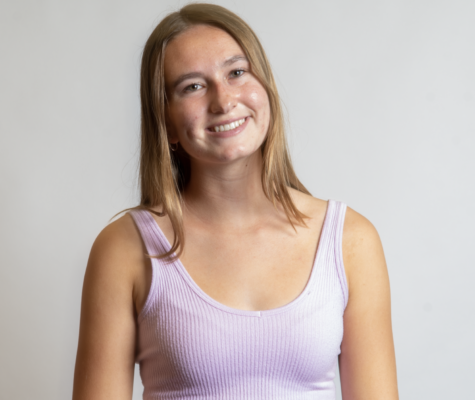 Erika Glass, News Editor
Second year news editor and avid milk drinker.