Library liabilities
The Redondo Beach Public Library will start enforcing stricter protocols on the homeless population
New ordinance, new regulations, old questions: how does the city accommodate its unhoused population?
On Tuesday Jan. 4, the Redondo Beach City Council discussed changes to the city municipal code that grant library staff the authority to enforce their rules of conduct. This revision makes refusal to leave the facility after reminders, warnings, and exclusion is now a violation punishable by a misdemeanor, up to six months and jail time and/or fines of up to $1,000. 
These rules, which include limitations on attire, volume of conversation, and general behavior, were adopted by the Library Commission in 2006 and have been in place at both the North Branch and Main Libraries since their creation. Under the former municipal code, however, only the city manager or city council could enforce expectations when handling uncooperative patrons. This created, city manager Mike Wazansky said, "a revolving door of concern."
"[With the revision of the municipal code,] what we really want to do is [solve] a structural flaw with our lack of enforceability under the law," Wazansky said.  
From a legal standpoint, the new code gives "enforcement capabilities in those rare cases where the police are called," said city attorney Micheal Webb. Though the changes were proposed in 2019, the pandemic pushed back discussion with the city council until a few weeks ago.     
According to library director Susan Andreson, the rules of conduct will need to be posted prominently in both libraries. These rules "may regulate disruptive behavior, noise, offensive odors, health and sanitation hazards, and bringing possessions, materials or objects into the library or facility which are likely to interfere with its use by others," according to the new ordinance. 
These revisions come with indication of future action: the Library Commission is awaiting approval to change the dimensions of baggage allowed within the facility, with criteria focused on size rather than number and change to rules about lounging on library steps. Tuesday's ordinance is the "first step," said Wazansky. 
Libraries are community epicenters: adults on lunch break, retirees reading the paper, students in the children's room and teens scribbling assignments can all be found peppered throughout the aisles of books in silence. 
"This is protection of public space," city council member Nils Nerenheim said. "Libraries have always been a place where the public can gather, where the public have a safe space. So when we get people interrupting that for whatever reason, we are protecting that space for everyone's enjoyment and everyone's ability to use it." 
In recent years, many libraries adapted to also become an all-purpose space for their community. Librarians aren't just scanning books to lend out anymore: their role is much more encompassing to support the needs of their communities. 
According to the Canadian Observatory on Homelessness, "libraries provide relief during times of extreme weather, a place to relax, connect and receive support. Libraries can [also] function as enriched spaces by offering opportunities to spend the day unnoticed by others, and legitimating their presence in prime rather than marginal spaces."
According to the Brookings Institution, libraries and librarians "help local people figure out the complexities of life, from navigating the health system to helping those with housing needs. This "go-to" role has influenced library programming and events, with libraries providing advice and connections to health, housing, literacy, and other areas."
There are some concerns about how these changes will affect the city's unhoused population since the library is utilized by them for Nerenheim's very reasons. Sophomore Yuma Kaneko notices these patrons when he visits after school, but in his experience, their disruption in the library itself is minimal.
"Usually they just keep to themselves, reading or using the computers," Kaneko said. "But it's true that they use the bathrooms to keep themselves clean."
Though patrons are not allowed to use the restroom facilities to bathe themselves per the library rules of conduct, Kaneko encounters unhoused patrons tidying themselves "almost every time."
"It doesn't bother me too much because I understand; they do their own business without disruption because the resources are available to them. But there are a lot of people—younger people—who would understandably be more uncomfortable," Kaneko said. 
Kaneko is "neutral" about his thoughts on the matter, because there are "two perspectives to consider."
"It is a place where a lot of children go after school, and seeing something like that can be really traumatizing. But at the same time, I would hope that there are more resources for homeless people so they wouldn't have to resort to using the library sink," Kaneko said.
Leave a Comment
About the Contributor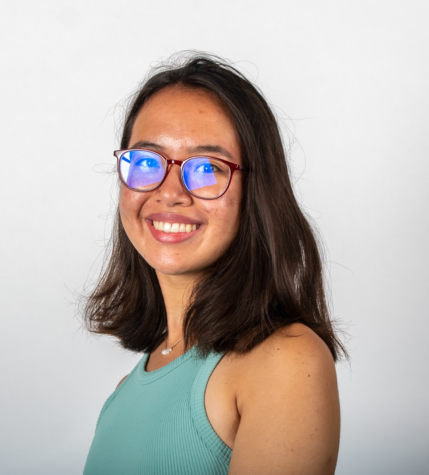 Lucy Davis, Online Editor
Junior. Lawyer, delegate, player of golf, writer. Will check in with you every Tuesday. I like to think that my stories are as good as my grilled cheese sandwiches, and I've heard positive things about...