Boys Soccer dominates Peninsula High School 6-0 with relentless offense
On Monday, Jan. 31, Redondo Boys Varsity Soccer took the field for a Senior Night game against Peninsula High School. Being the last regular season home game this year's seniors would ever play, the team took a much simpler approach to the game than usual. 
"Our main focus coming into tonight was just to have fun with the boys," junior center back Caleb Davis said. "It was senior night, so we had all the confidence going into the game. When you have fun, all the pressure disappears."
This laid-back approach proved effective for the team. The defense was tenacious and the offense relentless, leading the team to a dominant 6-0 victory. 
"We moved the ball really well. Moving the ball quickly in the back was huge," Davis said. "We were patient and didn't have to play as many long balls as we usually do, which was nice. Keeping the ball on the floor allowed us to play quickly and dominate them."
Throughout the fast-paced game, the team's chemistry was especially evident. Passes were received by players in stride and communication was audible even from the distant bleachers. According to junior forward Jaden Hancock, this impressive display of teamwork was "the key" to the team's success.
"We played really well as a team: connecting passes, moving off and on the ball, and just making the right decisions," Hancock said."We didn't just depend on one player. We had six goals and six different scorers. Everybody played a big part and worked hard."
With this win the squad captured their fifth win in six games, propelling them to the second spot in the Bay League standings. They play the top team in the league next Wednesday Feb. 2, Redondo's rival Mira Costa. In two games against Mira Costa this year, Redondo lost two one-score games, most recently a 2-1 overtime loss on Jan. 18. 
In order to overcome recent history against their rivals, Davis believes that the team must "play with [their] heads" and "focus on the minor details and fundamentals", while Hancock says that they must "get more guys in and around the box" and "finish [their] chances".
Despite the rather anticlimactic game, the assertive win nevertheless felt like a great send off for the senior players. 
"I hope they cherished the moment, given this was our last home game," Hancock said. "Hopefully they had fun; they played really well. I thought tonight was a great send off for them."
Davis echoed a similar sentiment, but also acknowledged that there is still more work to do before they celebrate. 
"I'm super proud of them," Davis said. "Even though I've known a lot of them for not very long, they're super cool. Playing high school soccer with them has been a lot of fun, but the job's not finished; we still have four games to win in CIF."
Leave a Comment
About the Writer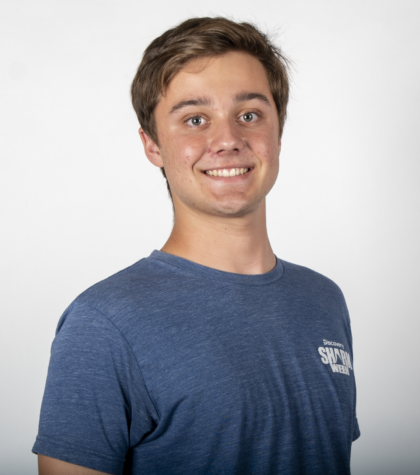 Andrew McKenna, Staff Writer
Hi, my name is Andrew McKenna and I am a staff writer for the High Tide. I'm a huge fan of all things sports, and specifically a die-hard Colts fan.