Turning green
Creating petitions and starting social media campaigns, junior Rylee Goldfarb has heavily advocated for green energy in Redondo Beach
On the evening of Dec. 7, 2021, during a virtual city council meeting, four out of five Redondo Beach City Council members approved a plan to change Redondo's default energy use from 50% renewable energy to 100% renewable energy starting in Oct. 2022. Residents are able to opt-out of the program and stick to the current default—50% renewable and 50% non-renewable energy—to avoid a 2-3% increase in their energy bill. Junior Rylee Goldfarb influenced the decision through her environmental efforts.
"Inevitably, this would be great for the environment.  Not only will it reduce all local emissions, it will also inevitably get rid of that AES power station or change the use from fossil fuels to renewable energy," Goldfarb said.
Rather than fossil fuels, Redondo Beach will rely on wind power, solar power, and a bit of geothermal and hydroelectric power according to the Redondo Beach Public Works Department.
In order to advocate for this, she worked with Michelle Ellison, organizer of the non-profit Green by Default.
They went to various Redondo Beach areas and spoke with businesses, students and the city council.  Goldfarb created two petitions, a hard copy and an online version.  The hard copy version received 555 signatures while the online one received 100.
When getting signatures, Goldfarb mainly focused on RUHS students' signatures because she wanted the city council to see that the students—the future voters—would be the ones remembering the decision and dealing with the environmental issues later.
"I honestly think that if it wasn't for Redondo Union and all of these students, it would not have been passed," Goldfarb said.
Alongside the petitions, Goldfarb held a social media campaign with her friends and classmates.  With the hashtag "RB100GreenPower," she and her friends made posts about the initiative in order to spread the word about the petition.
Prior to her journey to make Redondo's default plan 100 percent clean energy, Goldfarb made environmental conservation efforts. She believes seeing pollution firsthand and its detrimental effects fueled her environmental conservation efforts.
"Ever since I was really little, I've always just been very passionate about the environment and because I live in a beach community, I've walked along the beach in the sand and I'll see all the plastic there and the disgusting ocean. I get it, I should love the ocean, but when I see all that stuff, it's not as fun," Goldfarb said.
When Goldfarb was just six years old, she took part in various environmental projects through a non-profit called Grades of Green.
"There's been different advisors and they've been such a huge support, helping me find my environmental passion and helping me create all these different projects," Goldfarb said.
Through Grades of Green, Goldfarb was discovered by Ellison, whose initiative was to convince Redondo's City Council to switch to 100 percent renewable energy.
"I worked with her and through that, I realized how great this initiative would be and because I'm a Redondo resident myself, I was like, 'Oh my God, I would love to see Redondo go to 100% green power.'"
Despite the support of Redondo Beach residents, Goldfarb  noted that a lot of people signed it without knowing its purpose. Her goal now is to educate residents about climate change.
"Overall, everyone has just been very positive about this and they love this initiative," Goldfarb said.
Goldfarb observes that cities switching to 100 percent green energy by default is creating a "snowball effect."  Manhattan Beach switched to 100 percent green during early Oct. 2021, and she believes that Redondo wouldn't have switched over if it wasn't for Manhattan Beach's own decision. 
"Hopefully in the end, California as a whole will see that all these cities want to [go green] and then they'll make an entire switchover," Goldfarb said.
Leave a Comment
About the Contributor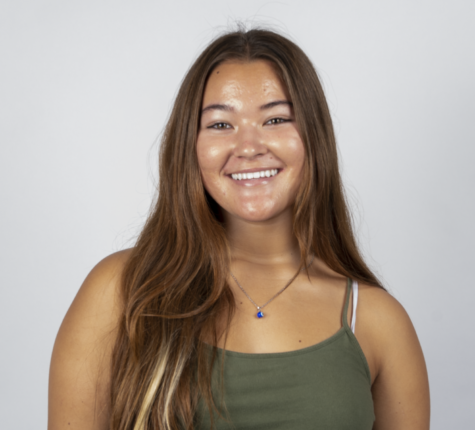 Rena Felde, Online Editor
This is my second year on staff and first year as an online editor. I love meeting new people, hiking, all types of music, and lists that use the oxford comma.