Marvel's Best
"Spider-Man: No Way Home" is an outstanding movie that perfectly finishes the Homecoming trilogy
Our friendly neighborhood Spider-Man is back in action, and he's entangled in a web of problems. On Dec. 17, "Spider-Man: No Way Home," the final installment of the Spider-Man homecoming trilogy, premiered and broke box-office records–it was the highest-grossing movie during the pandemic. Actors Tom Holland, Zendaya and Jacob Batalon, portraying Peter Parker, MJ Watson and Ned Leeds, respectively, all returned to advance their characters' storylines in arguably the most emotional and heart-wrenching MCU film yet.
"No Way Home" takes place about a year after the events of "Avengers: Endgame," picking up immediately after Mysterio reveals Spider-Man's identity to be Peter Parker, as seen at the end of the previous stand-alone Spider-Man movie, "Spider-Man: Far From Home." Peter deals with internal strife caused by his sudden identity reveal and an overhaul of negative attention from the public, but throughout the movie, MJ and Ned stand by Peter's side to help him overcome his struggles.  
The movie's main storyline kickstarts as Peter seeks help from Dr. Strange, played by Benedict Cumberbatch, to cast a spell in order to make everyone forget Spider-Man's true identity. Peter feels as though many complications in his life, such as unsolicited backlash and college admission struggles, would be mitigated by doing this; however, Peter and Strange manage to tamper with the spell too many times to the point where a crack in the Multiverse occurs. 
Up until the beginning of this year, Marvel projects have exclusively focused on the events of one universe–a universe which included Steve Roger's emergence from a block of ice, Tony Stark's ingenious development of technology, Thor's leadership of Asgard, Natasha Romanoff's battle against the Red Room and many more well-known storylines. It wasn't until Phase Four's introduction of the shows "Loki" and "What If" that the concept of a multiverse was established. "Loki" showed Marvel fans the possibility of variants of different people, including Marvel superheroes, while "What If" followed variants of MCU characters in carrying out various storylines across different universes. 
In "No Way Home", I greatly appreciated that the multiverse was fully realized, as this movie brought in villains existing in the previous Tobey Maguire and Andrew Garfield led Spider-Man franchises, including Doc Ock, Electro and Green Goblin. These villains were able to travel to Tom Holland's Spider-Man's universe through the crack in the multiverse, and Peter set out on a task to help heal them rather than fight them head-on. This excited fans, including me, as it opened up a whole new realm of possibilities tied to the MCU, and it showed a vulnerable, yet headstrong and matured version of Peter which we haven't quite seen before. 
Compared to the two previous Spider-Man movies, this one stands out as Peter's morals take a pivotal stance, allowing the audience to truly witness his growth. You can tell that he's not an excitable and impulsive teenager anymore, and he realizes the responsibilities that he has to take on as a public figure and a superhero. A common theme that Peter follows is the act of doing what he thinks is right rather than what is known to be easy, and in the end, even after the immense pain he experiences, his determination and diligence pay off. 
This is Holland's best performance yet. The story was very fast-paced, and I didn't have enough time to contemplate and process different events–I was sobbing my eyes out one second, then hysterically clapping and cheering the next. But Holland was able to display Peter's full range of emotions with ease, and it truly felt like he was Spider-Man rather than an actor playing Spider-Man. This movie forced Peter to make extremely difficult decisions about his stance as a hero, his personal relationships and his ability to uphold virtue and integrity. Holland's performance was intensely captivating, making Peter's grief especially palpable–audiences were able to naturally sympathize with him and his struggles.
Willem Dafoe, who reprised his role as Green Goblin, also put on an amazing performance. Dafoe brought so much life into his character, clearly highlighting the mental tug-of-war between Norman Osbourne and his alter ego–an appropriate and lively Dr. Jekyll and Hyde dynamic. Dafoe also requested that he do all of his own stunts, which added to the authenticity of the fight sequences. Green Goblin definitely was the frontrunner out of all of the villains, and Dafoe's portrayal of his character's extreme mischievousness and insanity helped fully characterize Green Goblin.
I also really enjoyed the writing in this movie. Marvel was able to implement so much sadness with such expressive and touching dialogue and imagery, yet there were also so many comedic scenes in which I found myself laughing. I remember when I watched the movie on opening day, the audience was collectively freaking out at some parts and crying at others, completely engulfed by Peter Parker's every move. So many unexpected things happened, both good and bad, which helped end some character arcs and introduce some new ones. 
Overall, this movie did a brilliant job of closing a chapter in Peter's life, and I am extremely excited for what's to come. I've reviewed other Marvel projects for the High Tide before, and I am a huge Marvel fanatic; after watching "No Way Home" not once, but twice, and thoroughly enjoying it both times, I can confidently say that this is my favorite Marvel production to date–even better than audience favorites such as "Avengers: Endgame" and "WandaVision."  With another Spider-Man trilogy recently confirmed by Sony, I can't wait to see how executives and writers plan to further Peter's story. This movie is definitely a must-watch, and I will be purchasing it to add to my collection of Marvel DVDs.
Leave a Comment
About the Contributor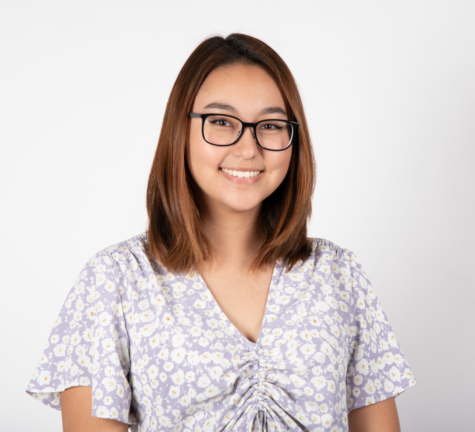 Allie D'Amato, Entertainment Editor
a walking advertisement for the chicken pesto mozzarella sandwich you can conveniently buy for $12.45 at your local Lemonade