Keeping calm
Girls varsity basketball defeats St. Anthony, the team ranked 16th in the state
Fresh off their first win on Nov. 27, varsity girls basketball took the court on Dec. 2 for their sixth game of the season. Their opponent, St. Anthony High School,  was carrying a six-game winning streak heading into the matchup, and are the sixteenth-ranked team in California, according to MaxPreps.com. 
Junior shooting guard Kyra Arakawa knew this team was good, but knew it was important they didn't back down.
"The key was not being afraid of anyone," Arakawa said. "Coming out to battle against highly ranked teams is tough, so just keeping our cool and having no nerves coming into the game is important."
Arakawa's teammate, senior small forward and co-captain Maya Williams, added that getting a good start to the game was also important. 
"Going into the game, I knew we had to come out really strong," Williams said. "We always come out strong, but I knew keeping that consistent throughout the whole game was gonna be key for us to win."
With these thoughts in mind, Redondo won the opening tip-off and started off fast, scoring a   layup on the first possession of the game. They then raced down to defend on the other end, holding St. Anthony to just one quick shot attempt that caromed off the rim and into the hands of Redondo. 
St. Anthony runs a two-three zone defense, which means that rather than defenders guarding individuals, they guard certain sections of the court. Zone defenses are typically more difficult to penetrate and offenses rely on outside shooting. 
"Them playing in a two-three [zone defense] allows for teams to shoot the three ball more," Arakawa said. "I think that when they play teams that don't shoot well, it is easier for them to have success [with that scheme]." 
Although St. Anthony usually holds opponents to 41 points a game, Redondo totalled 53. Sophomore center Ella Zimmermanled the team in scoring with 16 points including several clutch baskets to keep them ahead late in the game. 
Williams said that getting Zimmerman the ball in the post is "key to our offense," and Arakawa believes that they need to "feed the post more often". 
Winning by a final score of 53-43, Redondo has now won two straight games. While they are "happy" to have won, both players realize that there still is plenty of room for improvement. 
"We need to be able to box out better on both offense and defense," Arakawa said. "Having great defense and being able to box out will help us win (consistently)."
In basketball, boxing out is when defenders block the offense from rebounding the ball. Next up on the schedule for Redondo is Temple City, who is currently 3-1. For Williams, the mindset remains the same. 
"Constantly keeping the mindset that it doesn't matter how high you're ranked, or who you just beat is important," Williams said. "In the end, it's all just basketball."
Leave a Comment
About the Contributor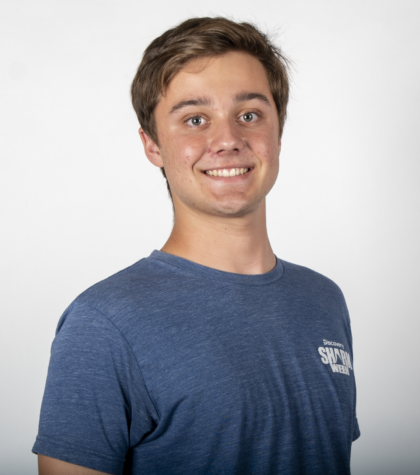 Andrew McKenna, Staff Writer
Hi, my name is Andrew McKenna and I am a staff writer for the High Tide. I'm a huge fan of all things sports, and specifically a die-hard Colts fan.