Holiday bops
The best songs from the christmas season
Each year, when December days roll around, bringing bare trees, brisk temperatures and various holidays, the best way for me to get in the spirit of the season is to listen to songs. With countless creations to choose from, some holiday songs have become more popular than others over the years, ranging from those that have been around for decades to those that have come out within the last ten years. Here are my top five holiday songs. 
At number five is the Hawaiian Christmas song "Mele Kalikimaka" by Bing Crosby and the Andrews Sisters. The 1950 song describes the lush, palm tree-filled Christmas found in Hawaii, wishing listeners Mele Kalikimaka, Merry Christmas in Hawaiian. Whenever I hear this song playing on the radio during the holidays, I'm always brought into a state of comfort and pure happiness, as I picture the surprising beauty of an island Christmas.    
The hit Christmas song "Christmas Eve/Sarajevo 12/24 (instrumental)" comes in at number four. Released by the Trans-Siberian Orchestra in 1996, this song carries astounding harmonies and breathtaking notes. It blends the popular "Carol of the Bells" and "God Rest Ye Merry Gentlemen" songs with an incredible guitarist and drummer that elevate the two typical songs to a dramatic rock version. While they are not as popular as Mariah Carey or others in holiday music, they are just as good.
"Frosty the Snowman" by Jimmy Durante comes in at number three. This classic song, which came out in 1969 along with the "Frosty the Snowman" movie, features dynamic jingles playing in the background of Durante's cheerful and passionate voice, highlighting Frosty's pure and joyous existence. The magic and carefree spirit of the holidays is expressed in this song and through Frosty, now and forever. 
At number two, "Jingle Bell Rock" by Bobby Helms is another song that should be recognized. This song, which came out in 1970, is lively and upbeat and is perfect for singing along or dancing to. The instrumentals and sleigh bells in the background of the song make Helms' lyrics pop, helping to transport listeners into a frosty scene where they are happily riding on a horse-drawn sleigh. After listening to this song, I'm always put into a better, more festive mood. 
Coming in at number one, Mariah Carey's "All I Want For Christmas Is You" is a staple. Whenever I hear this song, which originally came out in 1994, I immediately think of Christmas. With Carey's powerhouse vocals perfectly coupled with her background track of melodic bell chimes, she is able to convey that despite the materialism that normally fills the holiday, she really just wants to be with the one she loves on Christmas. This is a meaningful message that is passed on to her listeners, as many can relate to her.  
Leave a Comment
About the Contributor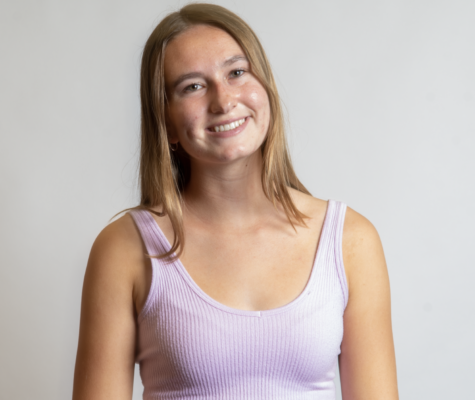 Erika Glass, News Editor
Second year news editor and avid milk drinker.