Bouncing back from break
Girls varsity basketball loses first game of the season to Bishop Montgomery 62-38
The buzzer blared as the team captains of RUHS and Bishop Montgomery shook hands before tip-off, glaring assertively at each other. Nov. 18, during the last week before Thanksgiving break, girls varsity basketball played their first game of the season. 
After a rough first half, the girls couldn't come back as Bishop Montgomery's defense remained persistent, losing 62-38. As co-captain, forward Maya Williams, senior, wants the team to start off with bang on both offense and defense. 
"We could work on coming out stronger and setting the game to our pace," Williams said. 
Turnovers by RUHS generated many of Bishop Montgomery's points, allowing them to keep their lead the whole game. Bishop's full court press hindered Redondo's ability to get the ball up the court properly and run plays on offense. 
"If we can push each other harder in practice to learn to get by that pressure, we can also learn to implement that pressure ourselves. With that, it will only get better," Williams said. 
At some points during the game, RUHS did match up with Bishop's toughness by grabbing more rebounds and hitting some threes, but by that time it was too late for a comeback. Junior Genavieve Sileo, shooting guard, notes that the girls just need to "keep our composure," and not get "frightened" by aggressive defense, which will come with more practice. 
However, both Williams and Sileo agreed that junior Brillana Boyd, the other co-captain, stood out in this game. She hit two threes at the start of the fourth quarter and scored ten points total. 
"Even though we had a lot of turnovers and tight defense played against us, she really did a good job at pushing the ball at the core and looking for the open lanes for layups," Sileo said. 
Although the girls did not want to start their season 0-1, this game proved that to beat teams like Bishop Montgomery's, they have to show no mercy on the court and be physically tougher than their opponent.
"We were all really excited, I think that's why we had some jitters today," Williams said. "But we've been working hard in the offseason and it's been a long time coming, so we're happy and excited to be back."
Leave a Comment
About the Contributor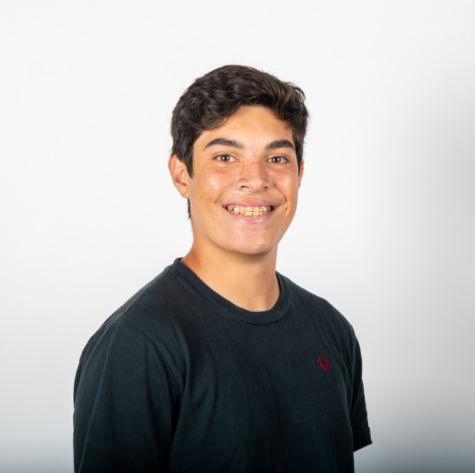 Ty Soria, Sports Editor
So excited to be in my 4th year in High Tide and second year sports editor. I play football and throw shot put and discus for the school and play lots of other sports as well. Come to the sports debate...