"Morning People"
With his own props, lyrics and animations, senior Cruz Carratala leaves the meaning for the viewer to decide in short film "Morning People"
Senior Cruz Carratala spends his time clicking away on his mouse, putting his creative editing skills to use by producing short films and YouTube videos. 
In his latest project, a short film called "Morning People," Cruz uses his own props, lyrics and animations to tell a story about an animated man who gets annoyed by a choir outside his house. The choir sings about life struggles and gives advice on intrusive thoughts, saying things like "a better day is just on the horizon". According to Carratala, the lyrics for the choir came to life as a poem, and weren't actually made for the film. He got the idea out of late-night boredom.
 "I was having trouble sleeping one night and I just woke up and was like, 'I need to do something besides trying to sleep,' so I kind of just wrote the first draft of ["Morning People"] in a sleep deprived episode." Carratala said. "I ended up using it here because I thought it was fitting."
Filming, animating and editing the video took two and a half months to complete. Carratala used multiple programs to animate his characters as well as make his own voice overs and music. Additionally, the props shown in the film were all handmade. 
"I used a lot of the Adobe Creative programs. I animated everything in After Effects, and that's also where I set up all the scenes. Then I did the sound and more fine tune editing in Premiere Pro, and all the animated characters were drawn in Illustrator," he said. 
Carratala, like many others, found inspiration in the hardships during quarantine. 
Additionally, he took some inspiration from some other creators that post similar YouTube videos.
"Quarantine was a huge inspiration because I feel like everybody was going through a certain mental state which I wanted to capture in the video," Carratala said.  "Also there's this creator named Jack Staumer who makes these kinds of niche animations who I'm a big fan of." 
The lyrics are a really big part of the video because they "aren't just random catchy words and have a deep meaning behind them," but Carratala prefers to leave the theme up for interpretation.
"Going into it I had my own ideas of what I thought the theme of the film was," he said. "But there have been a couple people that have brought up other ways to interpret it that I had never thought of which was really interesting, so I never want to specifically say what I thought the video was about."
Carratala's girlfriend, senior Hana Gardner,  is also a filmmaker and was "so amazed by every single detail that was put into it". 
"Overall, I loved the story of the film," Gardner said. "I interpreted the meaning of the film as there's people who will view life from a negative perspective, over a positive perspective, and vice versa, as shown by the arrogant man disregarding the choir."
Leave a Comment
About the Contributor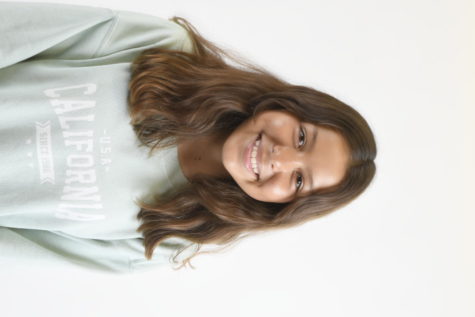 Oriana Chovit, Staff Writer
Hi! My name is Oriana and this is my first year on the journalism staff. The beach is my favorite place on Earth and I love to surf. I am also on the water polo team, love boba and dogs.