Good hospitality
Senior Deanna Chin volunteers at the UCLA Mattel Children's Hospital
High school classes at RUHS, college courses online, volunteering in person at two hospitals, fundraising for another hospital virtually, and working in a restaurant: Senior Deanna Chin does it all.
Chin volunteers at the ER at PIH Health Good Samaritan Hospital, at the Nursing Unit at Kaiser Permanente and at the Youth Ambassador Program at the UCLA Mattel Children's hospital. However, due to COVID-19, the Youth Ambassador Program was online, so while virtual volunteer activities were still completed, the program shifted to focus more heavily on fundraising. The program had included a mandatory fundraiser in past years as well, but with no in-person volunteer opportunities, the fundraiser became a bigger focus. Chin had a goal to raise $1,250 to $1,500 for the hospital. 
"During our meetings with UCLA, two students usually present their fundraising project and they demonstrate what they're going to do to raise money. A lot of them mentioned using social media, and a lot of people in the program actually succeeded in raising $1,250 by selling things and [using] social media as well. So I think it's a good platform to reach out to a lot of people," Chin said. 
Chin used many different platforms to promote her campaign, including Instagram, Snapchat and Facebook. She sold fake eyelashes through a website of her own for a time, but between school, work, and volunteering she had very little time to run the website. So she laid off the website and relied more heavily on social media to sell eyelashes. 
"I feel that everything was through social media. Through TikTok and Instagram, a lot of people started to wear eyelashes. And it seemed like, 'Oh, this is the trend now.' I started wearing them myself, and I began to go all in," Chin said.
Aside from fundraising, there are other volunteering activities that Chin partakes in through the Youth Ambassador Program. 
"I've donated a lot of different gifts like candy, erasers, simple stuff to make little activity kits for the children. I've also participated in making many comfort cards to display my creativity to them and hopefully bring a smile to the kids' faces," Chin said.
Chin doesn't just help kids though; she also helps people of a variety of ages both in the ER at PIH Health Good Samaritan Hospital and elderly patients in a nursing unit at Kaiser Permanente Hospital. Her favorite place to volunteer is the ER; it is filled with nurses to talk to and its fast-pace is exciting for Chin. At the ER she restocks carts, cleans beds, discharges patients, walks around assisting patients, gives patients their food, helps nurses with belonging lists when they are moving patients to a different department of the hospital and talks to nurses as they explain to her the steps to take to become a nurse. Chin likes to talk to the nurses and learn from them because she wants to be a nurse one day. 
"As a young child, during the yearly physical checkups, I was always amazed by doctors knowing the answer to everything," Chin said. "I wanted to have that knowledge and be able to help people as well, and let them know what was wrong if they were worried about something. I enjoy helping people, so by being in the medical field, I'm able to go and help if people are having life-threatening situations. That's a big factor, actually saving a life." 
Chin has had a love for helping others since she was young and that has been a driving factor in wanting to go into the medical field. Since Chin began volunteering at these hospitals, she has learned a lot from what she was taught through talking to the nurses, and physically completing tasks. 
"I learned what to expect, what providing healthcare to people is like, and the stress that it puts upon you. I learned how to react in situations where I never really knew how to react, like to immediately do a medical intervention or do something right away. I learned the different careers there are. But the most important thing really is learning how to care for people," Chin said.
For Chin, helping people and making a difference in their lives is more important than having free time. She is happy "just to bring a smile to people's faces." Between school, work and volunteering, Chin has no time to spare, but she continues to volunteer to help those who have unfortunately ended up in the hospital. 
"Helping kids has always been my passion, as I started from tutoring students to volunteering at hospitals. I believe kids are still young and they have so much more in life. Being in a hospital is really unmotivating, and giving them the motivation and hope to forget they're in the hospital would help them in continuing on," Chin said.
Leave a Comment
About the Contributor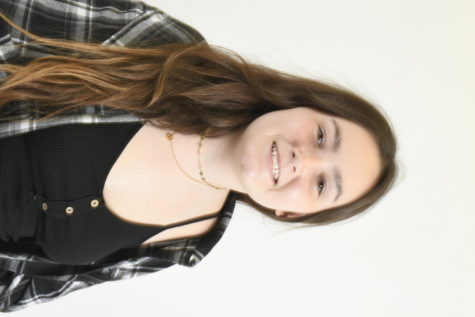 Sadie Simmons, Staff Writer





Hi! My name is Sadie Simmons. I'm a Freshman, a staff writer, and a Roller Derby player. I love hanging out with my friends and family, going to the beach, playing guitar, making candles, and...