Freshman Luca Richardson brings creations to life using 3D printing
Archer. Beekeeper. Coder. Drummer. Equestrian. Students at RUHS have many different talents, and freshman Luca Richardson has proven that one of them can be 3D Printing. Richardson has been putting his artistic ideas and mechanical skills to work for about eight months now, since winter of 2020. 
"The most fun thing [about 3D printing] is being able to create whatever you want, whenever you want," Richardson said. "I love the idea of being able to make my own products."
3D printing, according to Richardson, is a manufacturing technique that creates prototypes out of plastic materials designed with a virtual 3D model. The design is then produced with a printer that works similarly to a regular model, but instead includes an "extra dimension." 
Richardson has created a variety of pieces, ranging from a masquerade mask for RUHS' annual Homecoming dance to a pistol replica from the popular video game Fallout 4. As a fun and engaging pastime, Richardson also took media arts over the summer of 2021, meeting Nina Schwartz while he was there. Since they've become friends, Schwartz has witnessed many of Richardson's designs come to life; having an artistic mind herself, she knows how interesting it is to watch an idea come to fruition.
"He's very passionate about it," Schwartz said. "He likes creating all sorts of things. I've never known anyone who's been able to do stuff like that." 
Richardson's goals as an artist have grown into bigger printing plans for his future; or more specifically, one big plan. 
"Something that I really want to do one day is create my own suit of armor from basically any Star Wars franchise," Richardson said. "Maybe Clone [Trooper or] Mandalorian armor."
This armor was his inspiration for starting 3D printing in the first place. After watching Star Wars, he wanted armor of his own and decided to make that happen, using 3D printing.
"Having my own suit was originally why I wanted to buy a printer," Richardson said. "But I found that I liked the hobby as a whole. I not only want to make armor; I also enjoy the process and designing as well."
In fact, his favorite pieces have nothing to do with Star Wars; one of them is a sentimental, spiritual statue he made as a gift for his dad. 
"My dad's not Buddhist, per se, but he really likes Buddhist culture," Richardson said. "So I printed him a Maitreya statue, and I painted it for him in gold."
Richardson doesn't like to shop for gifts because he can use his 3D printer to create his own thoughtful gifts. Eventually, this became one of his main incentives for his crafting. 
"Ever since I got the printer," Richardson said, "I haven't bought a gift for anyone. I actually make them something. And if you can change the parameters of [the design] yourself, you can even make them something unique."
Even though some prints take a long time, Richardson agrees that they are always worth it. When he finishes something successfully, he feels "fantastic," especially if he "really liked the thing that [he] made."
"There's nothing more rewarding than thinking of something that nobody else has made before," Richardson said. "And then… less than 24 hours later, it's a real thing that you can hold and feel."
Leave a Comment
About the Contributor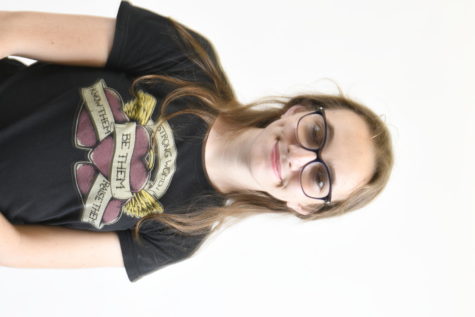 Marlie Cornwell, Staff Writer





Hi! I'm Marlie. I'm a Freshman Staff Writer (this is my first year in Journalism). I love writing about a lot of things and I love reading about very specific things. And in case you were wondering,...