Cross-cultural cuisine
Many students blend cultural dishes into the traditional Thanksgiving meal
For most, the phrase "Thanksgiving dinner" conjures up thoughts of delicious roasted turkey, mashed potatoes and pumpkin pie for dessert. While those are the most common foods at a 'traditional' Thanksgiving, many students incorporate dishes that reflect their culture into the festive meal. 
Senior Asjia Roberson's family hails from the South, with ties in Louisiana and Alabama. Before they transitioned to a completely vegan diet, her family often included dishes that were celebrations of Southern culture. Sometimes, Roberson and her family have celebrated the holiday in Louisiana with her Grandpa. 
"Before we were vegan, we did Southern dishes such as purple potatoes, gumbo, bisque, and cornbread," Roberson said.
Gumbo is a traditional tomato-based Southern stew that originated in Louisiana. Gumbo typically features seafood and okra topped with a dollop of rice.  Bisque is a thick cream-based soup that usually uses local seafood such as crawfish and lobster. 
Now that her family is vegan, however, Roberson's Thanksgiving looks much different. Roasted turkey is replaced with a tofu alternative. The traditional pecan pie now makes way for a vegan one. Even though the individual dishes have changed, the sentiment and spirit of Thanksgiving remain in full effect. While in Louisiana they had two different meals, one vegan and one non-vegan.
"We had to travel to the nearest Whole Foods and pick up some of the stuff. The parallels between the two set-ups were funny, it's like we had all of the vegan options of the regular meals and more," Roberson said.
While in Louisiana, Roberson was able to see what a Thanksgiving in the South might look like, and their menu became more limited. 
"My Southern family's Thanksgiving is much different than my nuclear family's vegan culture. When I was in the South, I was exposed to some dishes and traditions that I have never heard of. When my extended family was eating Cajun rice dressing, my sister, parents and I were having plain rice." 
"I love all of the vegan dishes, like sweet meatless chili and spinach and avocado rolls,  my family makes, and I enjoy them every year," Roberson said.
Despite the changes her family's menu might have seen throughout the years, what they do as a family after the meal has stayed the same. 
"Before dinner, we all do Bible study together. Then after we've eaten the savory portion, we always watch football, the parade and a Charlie Brown Thanksgiving.  After the pie and ice cream, we sit down and play games for the rest of the night. It's a really nice way to spend time with them since we're all so busy," Roberson said. 
Like Roberson, freshman Arianna Suarkeo's Thanksgiving table is peppered with dishes from her background. Suarkeo's family is Thai and Filipino, and for Thanksgiving, her family combines their American culture with their Asian roots. 
"On Thanksgiving, my family and I still have the traditional turkey, mashed potatoes and gravy, but my Lola also makes some cultural dishes," Suarkeo said. 
Some of the dishes that Suarkeo's Lola, which means grandma in Tagalog, makes are lumpia and turon, which are foods specific to her family's Filipino heritage. 
"Lumpia is basically a spring roll that you can fill with all sorts of things. My Lola usually fills them with mixed vegetables and meats. They can be fried or fresh but my Lola usually makes them fried. Turon is like a lumpia but filled with warm bananas instead," Suarkeo said.
On Thanksgiving, Suarkeo's cousins usually come down from Northern California to spend the week. They use this time to catch up on everything they have missed since the last family gathering. 
"I really love Thanksgiving because it's a time not only to enjoy great food but to spend time with family and connect. After the turkey and dessert, we always play an intense game of Monopoly followed by many different card games," Suarkeo said.  
Thanksgiving is ultimately a celebration of family, food and togetherness. Historically, the message behind Thanksgiving lies in the celebration of a harvest and the coming together of different cultures. As such, the Thanksgiving meal has continued to evolve to include a wide range of foods.  The Thanksgiving spirit transcends nationality or country of origin and continues to uphold the principle of giving gratitude to the land that sustains us all.
"I find it really important to embrace your culture during Thanksgiving and other holidays because it's important to remember where your family comes from," Suarkeo said. 
Leave a Comment
About the Contributor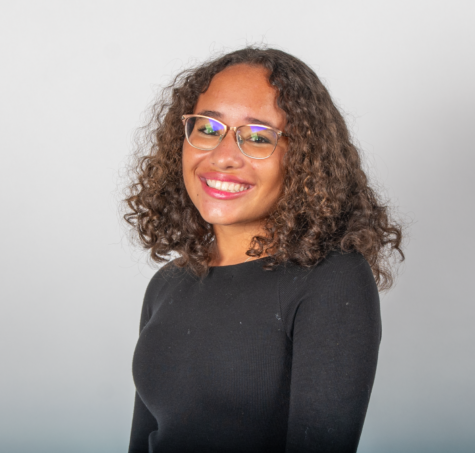 Amina Raiss, Staff Writer
Hi! My name is Amina and this is my second year on staff. I'm a sophomore and play on the tennis team. I love to write, surf, read, listen to music and obviously play tennis. I am very happy to be part...