A hard-fought match
Girls tennis falls to Peninsula despite strong effort
On Tuesday, Oct. 12 at 3 pm, girls tennis hit the road for the third time this season. This time they headed to Palos Verdes with their minds set on revenge. They were set to face fellow Bay League member Peninsula High School. Last time the two schools faced off, Peninsula defeated RUHS 12-6. Junior and doubles player Phoebe Chalupsky felt that this time, though, they'd be better prepared for their opponents. 
"I think that we've improved our doubles strategies and keeping the ball from the net player," Chalupsky said. "We played crosscourt all the time, keeping it from the net player. We also practiced a lot of volleys to make sure that we could get that point if we got the opportunity."
Despite all the hard work Chalupsky and her teammates put into preparing for the match, Peninsula put forward an effort that RUHS struggled to keep pace with. Seemingly every shot that RUHS had was effectively countered, and they made sure that RUHS earned every point they scored. After a series of hard-fought matches, Peninsula emerged victorious, winning by a final score of 15-3. 
"I think we just need to continue practicing doubles," Chalupsky said. "Our singles are strong, so we just need to make sure that our doubles are as strong as we can make them."
Chalupsky's teammate, sophomore doubles player Nicole Sasaki, also noticed several things against Peninsula that she thought they could improve on. 
"They were able to keep their double lines so we couldn't poach, which was where I thought we would've won most of our points. They were really consistent and we weren't," Sasaki said. "I think next time we just have to focus on getting our serves in, staying consistent and not getting in our heads. More than anything, it's just a mental match."  
While the result certainly wasn't what the team had hoped for, there were still plenty of positives the girls took away from their matches.  
"We had some groundstroke shots that were good, and we were able to poach and finish points off at the net," Sasaki said. Chalupsky agreed, adding that the team has "improved on doubles strategies" and also in "keeping the ball away from the net". 
With the season drawing to a close this upcoming week on Monday, Oct. 25 at 3 pm against Mira Costa, the "team is excited for the highly-anticipated matchup against their rivals". 
"Our biggest goal this season is to beat Costa," Chalupsky said. "I want to really improve enough to where I can play hard against Costa and actually give them a run for their money." 
Leave a Comment
About the Contributor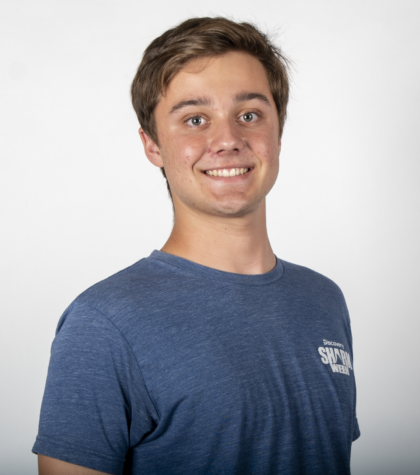 Andrew McKenna, Staff Writer
Hi, my name is Andrew McKenna and I am a staff writer for the High Tide. I'm a huge fan of all things sports, and specifically a die-hard Colts fan.