You just got served
Girls' volleyball establishes early leads in three sets and dominates against Culver City
They just wouldn't let up. 
On Sept. 22, Girls' Varsity Volleyball established strong leads early within their three sets and beat Culver City 3-0 (25-18, 25-20, 25-13). 
According to senior Gabriela Ramas, a Libero and Defensive Specialist, the team was "super confident" in their lead and refused to "stoop down to a lower level." They kept their guard up for the entire game, and Culver City rarely got an edge on them.
"We've been working a lot on running our middles, so when our middles go up to hit, it's a lot of fun watching them hit specific areas that our coach tells them to," Ramas said. "When the middle goes up, and the set is just perfect and the connection is there, everyone gets riled up when we get a really big kill." 
With an uplifting and supportive team dynamic, they played fluidly, each person keeping their individual job in mind. The self-accountability led to cohesive rallies, where stealthy sets were followed by resounding strikes to the opposite end of the court. 
However, they fell short on defensive readiness, allowing Culver City to score points. A stern reminder from Coach Tommy Chaffins regarding the position of an off-blocker put them back in the right headspace to win. 
"Once he said that, it kind of just got everyone together like, 'We need to focus right now, we got this ball, we need to stay disciplined on defense.' Even though we didn't win that specific point, I think our mentality throughout the entire team was to stay disciplined, and I think it came through in the end when we won," Ramas said.
Despite any shortcomings, the team always moved forward, huddling after every rally and reassuring each other that they'll get the next point.
And if there was anything louder than the smack of the ball being struck down onto Culver City's side of the court, it was the encouragement from RUHS's bench. Players on the bench cheered as if they had scored every winning point themselves.
"As the bench, it's your job to hype up the team and to build morale off the court, and it kind of gives the people on the court a reason to play harder, to respect the people on the bench. All the cheers and stuff are to intimidate the other side, but also for our morale," sophomore Trixie McMillin, a Libero and Defensive Specialist, said. "It's nice to be a part of such a positive bench. We always get complimented on our bench because of how encouraging and positive we are." 
The team is not getting ahead of themselves, though. According to McMillin, one of their sayings is "humble and hungry," which means, "every win we have, every game we do, no matter what, we're always ready for the next one, playing every game with the same intent, energy and competitiveness." 
"Right after the game, we reflect, and we always think about what we could improve. It goes back to the humble and hungry thing. We're humble about our wins, and we're hungry for the next game," McMillin said. "We're always trying to improve what we could have done better in the last game, and we always think about not only congratulating what we did as a team, but also what to look out for in the future."
Leave a Comment
About the Contributor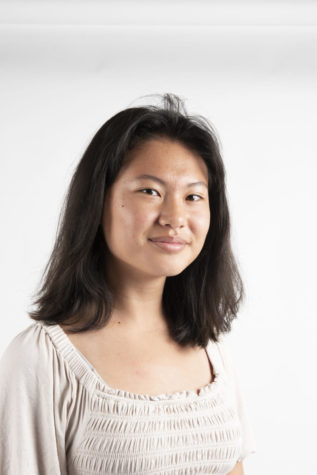 chrissa olson, Editor-in-Chief
I got this position based on my looks.