So much more than just an Old Town Road
Lil Nas X releases his debut album "Montero," two years after its announcement in 2019
Two years after breaking the charts with his country-rap single "Old Town Road," rapper, singer and songwriter Lil Nas X released his highly anticipated debut album titled "Montero" on Sept. 17, 2021. Although expectations were high, Lil Nas X met them with ease; he released a body of work that perfectly embodies his musicianship, creativity, sexuality and personality.
It all started on March 26 of this year when Lil Nas X released what became an extremely popular but also controversial single titled "Montero (Call Me By Your Name)." Despite the controversy, the song debuted at No. 1 on the Billboard Hot 100 and became another smash-hit. Later on, Lil Nas X released another hit titled "Industry Baby" on July 23. This song was also immensely successful, raising the expectations for the album which was teased on March 26, 2021, and then formally announced on Aug. 26, 2021.
"Montero" starts off strong, with three of the first four tracks on the album released as singles. The second track, "Dead Right Now," is one of the strongest songs on the album; Lil Nas X sings about his fake interactions, and how his rise to fame caused people to talk to him just because he is a successful celebrity. Lil Nas X's ability to express these hardships in a soulful song starts off the album with a bang.
Following the first four tracks is a short interlude, "The Art of Realization," where Lil Nas X contemplates if he is truly happy with his direction in life. The rapper ponders whether love—a theme of the fourth track titled "That's What I Want"—or fame—a theme of the sixth track titled "Scoop" featuring Doja Cat—is more important to him.
"Scoop" continues the more upbeat and fun part of "Montero" where Lil Nas X showcases his rap skills and his ability to write clean verses and a catchy chorus. The contribution from Doja Cat brings extra personality into the song, as the two brag about their bodies, fame, and eventful day-to-day lives. "Dolla Sign Slime" featuring Megan Thee Stallion continues this braggy, self-assuring tone seen in "Scoop", which is complemented by fast, staccato beats full of trumpets, trombones and drums. Although short, Megan Thee Stallion's verse flows very well, showcasing her outstanding rapping and songwriting abilities.
After "Scoop," the album transitions to a slower, ballad-like and sentimental tone where Lil Nas X expresses some of his struggles within the music industry regarding his rise to fame, his personality, as well as his sexuality. "One of Me," featuring Elton John, highlights how many thought that Lil Nas X would never succeed past his smash-hit "Old Town Road," and "Tales of Dominica" sheds light on the many family problems and dark, depressive times he went through in his life. In what is already a very personal and emotional album, many of these songs add immersive depth to who Lil Nas X is as an artist.
While the album does end on a more somber note, Lil Nas X definitely did not disappoint with "Montero." The expectations on this album were wild; with such successful singles, Lil Nas X had a lot of pressure on his shoulders to continue this momentum and deliver a project that was outstanding—and he effortlessly pulled it off.
Although I did prefer the first half of the album more, largely because the majority of the songs were rap and pop-heavy, the second half of "Montero" truly revealed a side of Lil Nas X the world hasn't seen. His singles were all extremely energetic, pop and rap-heavy songs that the public could jam to, revealing his crazy and wild personality while also putting his sexuality up front. However, by adding these emotional, ballad-like songs, listeners saw a side of Lil Nas X that is far from perfect, and how many of the things he laughs off on Twitter or in front of paparazzi are real obstacles in his life.
"Montero" truly embodies Lil Nas X as an artist, and for a debut album, it is absolutely outstanding. It showcases how strong he is as a musician, but it also reveals the layers of his personality, sexuality and creativity that were not always noticeable. It has a perfect balance of excitement and calmness, and a clear message—Lil Nas X is much more than just a queer rapper who released "Old Town Road." He is a creative genius who created a work of art, full of outstanding music that truly captures who he is, both as a musician and as a person.
Leave a Comment
About the Contributor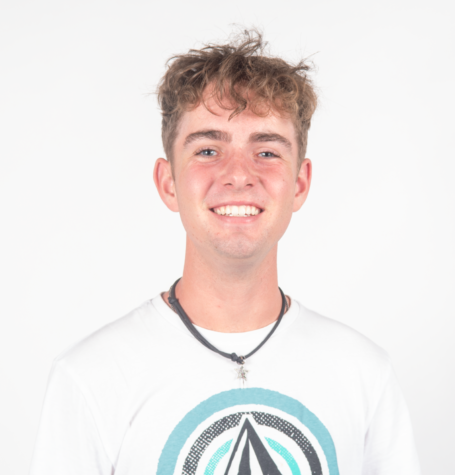 Troy Nevil, Online Editor
Hey guys! I'm just your local high school senior procrastinating college apps and going through senioritis. In my free time, I love to sleep, eat all food in existence, drive around with friends (and waste...