Birds of a feather
The Flock won Best Student Section in Southern California
At our volleyball games, spectators will often notice a large and extra noisy section in the back, right side of the gym. Repping their school spirit and fun accessories, that student section, The Flock, is always ready to take flight. This is proven to be true as in mid-September, when The Student Section Report named the Flock the best volleyball student section of the week in Southern California. The organization also has a podcast, run by Manny Alvarez in which discusses high school student sections and marching bands and covers what it takes to bring the best school spirit every week. 
A "Head Hawk" is a position in RUHS ASB in charge of getting the student section excited and involved at sporting events. We have four head hawks: sophomore Henry Cushman, junior Chris Thurman, and seniors Piper Frankel and Liam Heinz. 
"The environment at volleyball and football games has been so fun and full of energy. Due to COVID-19, it has been a really long time since we were able to have these kinds of events, so I think everybody was just really excited to come out and support their school. We have had a really good crowd," Thurman said. 
The Student Section Report covers high school student sections across the United States. During the week of voting, RUHS students spread the word about the competition on social media platforms, and many voted on their website, socalstudentsections.com. RUHS was up against Chaparral Green Fanatics, Capo Valley Cage and Ranch Bernardo Stable. 
"It felt good to see that the Flock won. There's a lot that goes on behind the scenes, whether it be letting people know when games are or planning out theme nights. I'm just glad to see people are having a good time and our school is getting acknowledged," Thurman said. 
Heinz says that Hawaiian night was the biggest hit. He believes themes draw more people to games and the game itself was getting really intense, which made the student section get "even more hyped up." 
"On Hawaiian night, our girls volleyball team played Marymount. It's super exciting when you can see the girls on the court getting excited when The Flock gets louder. The first half of that game was just really intense and high energy," Heinz said. 
On the court, girls' volleyball player and junior Mele Corral-Blagojevich says she could "feel all the love coming from The Flock." 
"The Flock brings so much energy to our games. When we have the student section at games, it just adds to the excitement in the gym and makes it so easy for us to get going and get on a roll. It is also such a momentum shifter. An opposing team can make a good play that gets them hype [from the crowd], but when we make a play, the Flock cheers ten times louder and brings momentum back on our side. I love it," Corral-Blagojevich said. 
Corral-Blagojevich "appreciates the support" of her classmates and friends attending the games. 
"It is so heartwarming and just awesome to see my classmates and friends at the games because it feels like they are all invested in all the hard work we put in and adds an extra layer of motivation. It is also super cool to see different people from different sports and clubs on campus cheering on our team because at the end of the day, we are all Seahawks," Corral- Blagojevich said. 
The Head Hawks encourage every student to join the Flock as "it helps bring together our Seahawk community." 
"I would tell a student who is nervous to join The Flock that you only have four years in high school and due to COVID-19, we missed out on so much of that. These high school years are going to fly by, so enjoy every moment of it. Join us in the student section. Let's grow that," Heinz said. 
Leave a Comment
About the Contributor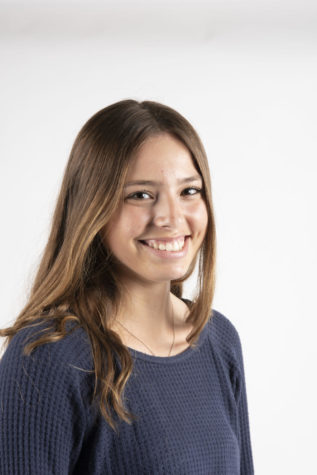 Jess Alvear, Sports Editor
Heyyy! My name is Jess Alvear and this is my third year on staff and my first year as a sports editor! In my free time, you can catch me playing softball and watching The Bachelor. I am so excited to continue...