Above and beyond
Sarah Robinson named one of 16 Teachers of the Year in L.A County
To make a difference in the world can be a seemingly impossible task. In the opinion of Spanish 2 and 4 teacher Sarah Robinson, it's much more simple: become a teacher. On Sept. 23, 2021, the Los Angeles County Office of Education (LACOE) named Robinson one of the 16 Teachers of the Year.
Before advancing to the LA County division, RBUSD chose Robinson as RBUSD teacher of the year after deciding from a group of nominated teachers from each school site. Robinson then applied to be part of the LA County teacher of the year division, for which she wrote essays and did an interview. Robinson believes the hopeful tone of her interview and essays is what made her stand out.
"When I talk to my friends who are not educators, they say things like, 'How can you work with teenagers these days?' But for me, during the COVID-19 and everything we've been going through, working with my students was what gave me hope. I got to see how kids, who were dealing with situations that were much different than mine and sometimes really stressful, were able to still follow through with their work and how we as a class were able to work together," Robinson said.
Though Robinson's name was the one on the figurative trophy, she maintains that the honor extends to other teachers that helped her through every step of the process.
"Last year was by far the hardest year in my career and personally I had some major losses, so it was such a difficult year to then be followed up with 'Congratulations, you're a great teacher!' That's been a weird juxtaposition. But, I take it as a really important representation of all the teachers and what we have done over the last year and a half," Robinson said. 
One of Robinson's main teaching philosophies as a teacher is that "You always have to be your authentic self," whether that means showing her sarcastic side or her interests, such as teaching a unit about Panamá, where Robinson lived at one point.
"My favorite moments are when the students and I are laughing so hard at something that has happened, and I've had times where I literally have to step out because I'm crying from laughing so hard," Robinson said. "Those kinds of moments when everyone is genuinely having fun are my favorite parts of teaching Spanish."
Robinson's students, such as junior Alisha Kumar in her Spanish 4 class, were not surprised to hear that Robinson had been selected as an LA County teacher of the year.
"She [Robinson] is very informative and I feel like I always know what's going on in her class," Kumar said. "She's very nice and genuine, and when she teaches, I feel like she really cares about her students and their learning."
Robinson's work goes beyond RUHS. In addition to teaching high schoolers 'el vocabulario' and how to conjugate 'el pretérito,' Robinson is the president of the local teachers union, the Redondo Beach Teachers Association (RBTA), an elected representative to the California Teachers Association (CTA) and an elected representative for the state council. 
On the state council, Robinson serves as the chair of the committee on civil rights in education, where they focus on creating policies that "support equal access, fair treatment and diverse viewpoints for all of our students," Robinson said. For example, the committee is currently working on a bill that would make ethnic studies a graduation requirement for California high schools. 
"I really hope that every one of my students feels welcome and supported and can see themselves represented in school," Robinson said. "I grew up in a suburb in Santa Clarita, and there were very few students and hardly any teachers who looked like me. So, something that I think is really important is that we are able to represent our students, their background and their experiences across our school."
According to Robinson, teaching has given her a "greater sense of responsibility" as a public servant. To Robinson, her occupation goes beyond simply teaching students Spanish—she also feels that it is her job to support students through challenges they're going through, widen their perspectives and help them prepare for their futures.
"When I started teaching 16 years ago, I didn't look at it that way," Robinson said. "But now it's really evolved in that I do believe that it is my calling to do everything I can to create a better environment for the next generation."
Leave a Comment
About the Contributor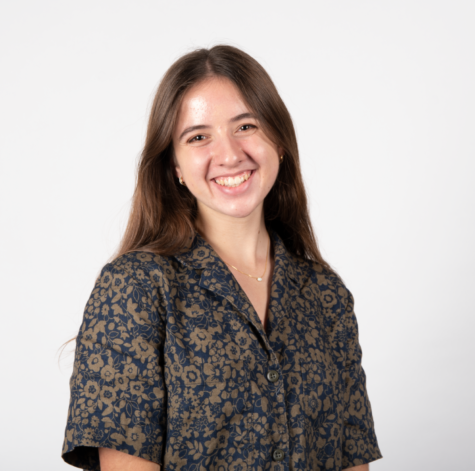 Elise Haulund, Editor In Chief
My initials may be eh, but my stories sure aren't! I'll love you forever if you peel me a tangerine.