Worth the wait
Rapper Kanye West delivers a strong and powerful album filled with themes of religion, familial loss, and responsibility, despite the insurmountable wait
Following more than a year of delays, rapper, singer, songwriter and producer Kanye West released his tenth studio album titled "Donda" on Aug. 29. Cultivating distinct themes about his experiences with death, divorce, depression, and religious redemption, this album is some of the best music he has released in the past five years.  
In recent years, West has focused quite heavily, considered too heavily by many fans, including myself, on his belief in Christianity, culminating into his 2019 album, "Jesus is King." Donda managed to further flesh out West's religious ideals in a better  light while also including ideas of familial loss and responsibility. 
West's album opened with the 52 second long "Donda Chant." Admittedly puzzling, the chant is the repetition of the name of West's late mother, Donda West. Although unconfirmed, fans speculated that the chant represents West's grief over losing his mother or her fading heartbeat as she passed away. Even though it was an artistically unique start, West began true to his vision, despite people possibly not understanding it, and I find that respectable. 
Serving as the tangible start of the album, "Jail," featuring Jay-Z, highlights West's separation from Kim Kardashian as he tries to convince himself that he's okay. As well, jail itself served as a metaphor for spiritual bondage in this song. The deep strewn-out notes of a synthesizer paired with echo of the spoken lyrics gave the song and the start of the album a grand feeling. A lyric that raised a particular flag with me was, "Hova and Yeezus, like Moses and Jesus." I found that Jay-Z and West comparing themselves to Moses and Jesus came across as poorly-placed and almost narcissistic in an otherwise good start.
Jumping ahead, West's near chart-topping hit and my personal favorite song "Hurricane" featuring The Weeknd and Lil Baby reflected on West's grand lifestyle, which has degraded his home and family while elevating his career. West's good use of bass-thumping synthesizer, drums, and a back-up choir during intense moments of the song made me feel like I was sitting next to him while he performed. West's and Baby's vocals also felt quite heavy, serious and genuine as they lyricized the pain they've experienced. 
Skipping forward to the more somber and narrative turning point in the album, "Donda," the song, not to be confused for the album, is spoken-word for the majority of the playtime, citing excerpts from a speech West's mother gave celebrating poets and artists. It switched to what I found as beautiful, loud and clear gospel toward the latter half. From this point on, West uses the album to speak highly of God and to reinforce his beliefs in the importance of faith. 
As the album rounds off with West's last song, "No Child Left Behind" features Vory, he speaks about the foundations of Christian faith, trusting God, and trusting in himself to be a good father to his children. The song is filled with high tones and melodies from an organ which give it an operatic atmosphere. The lyric "No Child Left Behind," serves a deeper meaning as West doesn't want to leave his children behind as a result of his divorce. This song serves as the narrative end of Donda, leaving with West's solidified Christian faith and realization of his family's new but uncertain reality.
This album displayed ideas of religion and family further into West's mainstream, while also making it meaningful for the listener. Compared to "Jesus is King," Donda towers and mixes what made West famous in the first place, incredible lyricism and a volume-cranking beats, but it mixes that with his story of religious discoverence and redemption. Although the wait made the hype pretty insurmountable, this album has done more than live up to its expectations.  
Leave a Comment
About the Contributor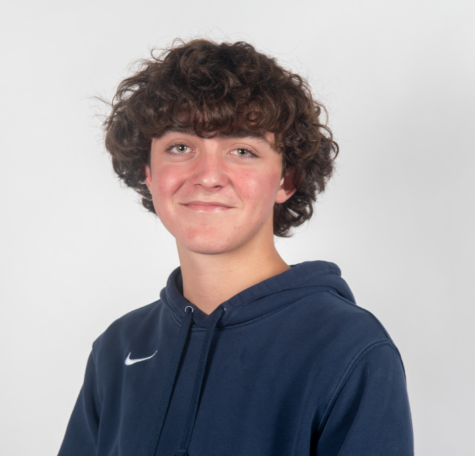 Ethan Lerner, Writing Editor
Hi! I'm Ethan, I'm a junior and this is my third year on staff but first as a Writing Editor. Outside of school I like to be outside of school.