Sensational stickers
Freshman Jamie Deines reflects on the sticker-sellilng business she and her friends started during quarantine.
As Beach Hut Stickers, a small Etsy business owned and managed by three freshmen, heads into a hiatus, freshman Jamie Deines reflects on what she's learned in the previous year. 
"A big lesson I learned was that everyone's minds think differently, but sometimes if you just take a step back and listen to what other people are telling you, then you'll see that you're not right all the time," Deines said. "Other people are right too." 
Another lesson that Deines took to heart was learning the art of time-management as she balanced distance learning with designing stickers, packaging orders and managing relationships between the business and clients. Deines noted that the working relationships with clients were "fun," especially when she could exchange ideas with customers to keep them coming back and buying the designs they had personally requested. 
Deines began working on the project around August of 2020, when two other friends she'd known since sixth grade reached out to her and asked if she wanted to open a business with them. 
"She called me and said, 'Hey, we're bored, quarantine is happening and sports have stopped." Deines said. 
Immediately after, the three of them met to create a schedule of when and how often to meet, list out necessary supplies, and open a business account on Etsy. They also established long-term goals, like how much money they wanted to make each month. 
The other two students drew and cut their own designs on Procreate while Deines was responsible for assembling  sticker packs, shipping them out and posting all of the advertising on their Instagram account. 
"There were a lot of creative differences. My sticker ideas were like surfer and skater vibes, but my friends were more aesthetic and trendy. I was like, 'I don't know if people will buy this,' because there are already so many designs like this out there and I was trying to be new and creative. They told me, 'No, just trust it.'" 
To compromise, they took a few trending designs and Deines' less popular ideas and put it together in a pack. 
"It sold really well. The combinations of our ideas worked really well together," Deines said. 
While the three occasionally butted heads on sticker design ideas and other creative controls, Deines prided themselves on being able to calmly work through their differences and get to solutions that worked out well for their business. 
"We wouldn't have arguments, per se, but we would have intense conversations," Deines said. "There was one time we had 10 sticker designs for a Halloween pack, but we had to narrow it down to eight, and we were deciding which ones we wanted to keep and which ones we wanted to get rid of. I wanted a certain six stickers but my friend didn't want two of the ones I wanted. We just compromised and kept one of the stickers I wanted and one that she wanted, and it turned out for the better."
At their peak, Beach Hut Stickers made around $100 a month, enough for them to upgrade and buy their own Cricut sticker cutter after spending three to five months borrowing another friend's printer. This allowed them to cut their own stickers without either hand cutting or using precut shapes.  
Despite being happy with the buisness's progression, the three have not made any new stickers since mid-July and don't plan on making any more through the rest of the first semester. The only orders being placed are orders made on the remaining stickers in stock. 
"Our sports started again," Deines said. "I liked running a business — coming up with ideas, packaging things — but it could sometimes be stressful because there were so many orders to send out. I think it's good to take a break, so that we'll think of more ideas over the hiatus and come back stronger." 
Leave a Comment
About the Contributor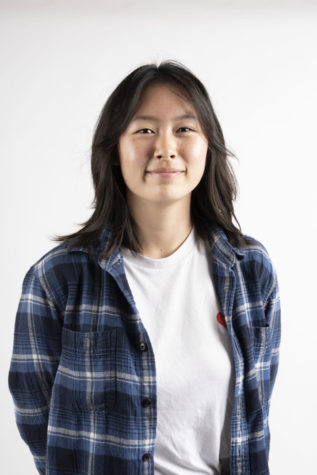 Heather Lee, Entertainment Editor
Hi, I'm a first time senior and a second time entertainment editor. When I'm not scurrying about to meet deadline, I work as a cat butler -- it's not much, but it pays the (kitty) bills.