RUHS is offering free meals to all students this school year
Newly limited choices of lunch and snack — chicken sandwiches, orange and teriyaki chicken, grilled cheese, mac 'n' cheese, turkey croissants, cheeseburgers, pizza, PB&J's and Cocoa Puffs — have raised concerns that the universal free lunch program at RUHS has reduced the quality of food offered to students. 
First introduced last year when the pandemic sent students home and left many parents income-less, the universal free lunch bill was able to continue through the 2021-2022 school year due to an unexpected budget surplus at the California Department of Agriculture. Funding is not a problem for districts all across the state. 
"I mean it's free food, but I definitely think that ever since they started the free food program, the food has gotten worse," senior Michael Farah said. 
While he often is still hungry after buying, Farah notes that the quality is usually decent and has relied on school lunches since his freshman year. 
"Before, you had Italian, Mexican, Asian, hamburgers and salad. Now, there are only three options: nasty microwave pizza, teriyaki chicken with dried-up rice and the only decent thing is a chicken sandwich," Farah said. "[At snack,] you can't buy anything now. No more chips, not even a water bottle. But I think the portions stayed the same." 
In response to these worries, Jillian Navarro, the director of RBUSD's Child Nutrition Services, and Rita Johnson, the RUHS Child Nutrition on-site manager, would like to reassure students that the currently limited menu is only temporary. Food is on its way. 
"We didn't know how many students to anticipate," Navarro said. "Since [the lunches] are free and we've never had that before, we tried to limit the selections to keep the lines going. Hopefully, the fewer the choices, the less time to decide." 
One of the biggest complaints the district had previously received from students was about the long lunch lines that had kept kids hungry and idle. 
Another part of why so much about school lunches and snacks have changed for the new school year is actually due to COVID restrictions. In order to avoid "back and forth transactions," the cafeteria cashiering method has been switched to a new cashless system where students simply swipe their student IDs instead of punching in their four-digit codes. 
"It makes the line go so much faster," Johnson said. "Of course we have little kinks, but for the most part, they swipe and they're gone." 
At the snack bars where cups of Cocoa Puffs greet students instead of the beloved cookies, the importance of a faster line surfaces again. As Navarro explains, shorter lines mean more space for students to avoid close contact with one another. Cookies have to be baked and handled by staff before being sold to students — packaged cereal is mostly contact-free. 
Limiting the ever-evolving menu also serves to keep things simple, a way to combat another side effect of COVID: a national staffing shortage. 
"You hear that restaurants are experiencing labor shortages. Well, so are we. We've tried to make the menu as easy as possible for the staff, and by making the menu items easier to prepare, they can get into the swing of things at least in the beginning," Navarro said. 
Johnson and Navarro have observed that their staff can handle the demand of 800 students and counting at lunch, and Johnson has been slowly preparing to bring back high schooler favorites, like Domino's pizza or nachos. 
"We're definitely sticking to their favorites of what we remember they liked, and we'll be bringing them back," Johnson said.  
Regardless of the menu's limitations, the quality and nutrition of the food are managed so that they stay the same by the US Department of Agriculture's strict standards. After all, the priority is making sure students stay healthy and fed.  
"We're just trying to serve as many students as we can, as fast as possible, so they still have time to eat, socialize and do what they need to do," Navarro said. 
Leave a Comment
About the Contributor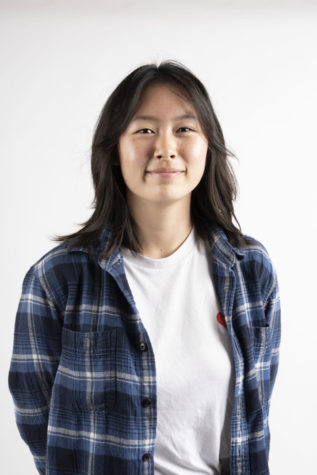 Heather Lee, Entertainment Editor
Hi, I'm a first time senior and a second time entertainment editor. When I'm not scurrying about to meet deadline, I work as a cat butler -- it's not much, but it pays the (kitty) bills.