Redesign, Refurbish, Recreate
Librarian Cassandra Jones is reshaping the library into a space of collaboration, relaxation and excitement
To many, the library is just that building where textbooks are checked out at registration, filled with shelves of dusty titles published before students were born. Librarian Cassandra Jones has set out to change that. Although its "been a bit of an odd space" in years past, according to Jones, she is looking to transform the library into a center of collaboration, relaxation and studying, filled with books that students are excited to check-out.
"I want students to see the library as a comfortable place where you can come to find a book that you didn't know you needed to read that will totally change your life; and, I also just want it to be a space for hanging out," Jones said. 
Jones is beginning this transformation by renovating the book selection, getting rid of outdated titles and searching for genres, authors and books that are piquing students' interests. Jones  said she's also pulled ideas from "BookTok," a term for a community of book lovers on TikTok that rates and recommends fresh titles, such as We Were Liars by E. Lockhart or The Seven Husbands of Evelyn Hugo by Taylor Jenkins Reid.
"We have a really old collection of books that I'm weeding out. Some of these books haven't been checked out or searched for in the past 10 years, which doesn't mean they automatically get the cut, but we want each book to be relevant," Jones said. "I'm always taking requests from students. I also read a lot and I'm on BookTok, so I get ideas from there. I have a huge list." 
The reason for these changes is that Jones and the RUHS administration want to foster a greater love of reading at our school. For starters, the library removed late fees that accrued around 10 cents per day after two weeks, which could've deterred students from checking out books in the past.
"With the demands of school, that's not feasible for a lot of kids, and I never thought that was appropriate for a school library," Jones said. "If you lose the book, or if you never return it, you get charged for the cost of the book, but a penalty just didn't make any sense to me. So we got rid of it last year, and it felt so great." 
The library is also initiating a reading challenge in order to incentivize reading among students. 
"We're going to have a fall reading challenge this fall until January, this full semester. You read a book, write a review on it, and then you get entered to win a bunch of prizes, ranging from Starbucks gift cards to library swag," Jones said. "Mr. Bridi is even going to come in and do a book talk about his favorite book during our reading challenge. We really are building a book-loving community." 
Beyond reading, Jones is looking to make the library a hub of socialization on campus, inspired by her experiences with libraries in college.  
"When I was in college, the library was my favorite place to be. I want to recreate that here," Jones said. "One side of the library will be reserved for people who need to put their heads down and work, and the other side will be more of a collaborative space. I really want to add in comfortable, modular furniture and turn the small courtyard into a succulent garden for reading." 
Jones also wants the library to be a safe space for students who could use somewhere to hang out during snack or lunch. 
"I loved being comfortable in a safe space during online school. Now we are here until 2:55 p.m. everyday and it was important to me to create a space for students who maybe never established a lunch spot or lost friends in the pandemic. This is a space where they can sit alone and it doesn't look weird," Jones said. "There's no reason for this to be a place where you have to be really quiet and just comply. This space should be a sanctuary."
For students interested in taking advantage of this space, there are multiple ways to do so. Although the library is closed for seating at snack, students may reserve a table for lunch by registering at bit.ly/ruhslibrary; during free periods or after school, students do not need to reserve a table, but must complete a Google Form indicating which table they sit at for contact tracing purposes.  Additionally, the reading challenge is starting soon, and students can join the Library Club or ask Jones about becoming a Teacher Assistant if they are interested in helping out with updating shelves. Students can stay up-to-date with the library on Instagram at @readondo or on the library section of the school website, redondounion.org. 
"There's always work to do here. I'll sign off on any volunteer hours anybody needs. I'll do anything; I just need dependable people," Jones said. "It'll take a lot of work, but I'm really excited."
Leave a Comment
About the Contributor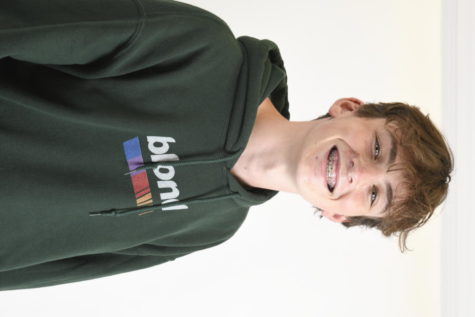 Ben Ringel, Online Editor
Approximately 70% of my High Tide work is done at Coffee Cartel.