Manhattan Beach Farmers' Market review
Bustling with eccentric, unique vendors and attractions, the weekly market is a solid way to support local businesses
Behind the Shade Hotel in Manhattan Beach, every Tuesday from 11 a.m. to 3 p.m., more than 50 vendors and food stands are set up to host locals and visitors alike. With the day off, I thought, "Why not?" and had my brother drop me off next to a group of young moms in yoga pants and an adorable French bulldog. A mix of reggae and soft pop poured through vendors' speakers as I strolled underneath the midmorning sun and thought, "What first?"
Left to right, I deduced.
The flowers caught my eye first. Buckets of sunflowers and bouquets of colorful arrangements wrapped in brown paper were so pretty that I had to snap a photo. Three steps away began the organic produce: squash, melons, cucumbers, lemons, lined up in rows to form rainbow grids of fruits and vegetables.
Each stand offers its own treats. You might find dried grapefruit slices at Arnett Farms, beets for your next smoothie at J.R. Organics, or the reddest strawberries at C&L Farms. I didn't know that some of the offered fruit varieties even existed—mango nectarines? Watermelon pluots? I walked past crates of jellies and butter, jars of honey and ice boxes full of fish all manned by vendors who are more than happy to tell you what their stand is all about. I chatted with brothers from Aliki's Greek Taverna, who gave me a briefing on their hummus selection and sent me on my way with garlic pita chips. Yum.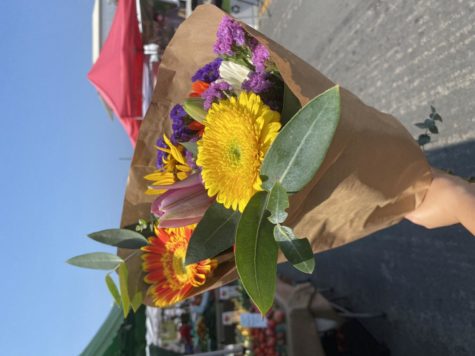 Throughout the market, you'll notice how easily patrons and suppliers coexist. While face painting and balloon artists occupy younger kids, the adults can sample five different kinds of balsamic vinegar for their next cheese board. More than a dozen food and drink stands have a diverse array of options and people to chat with along the way. It's the kind of place where everyone seems to know everyone. Vendors greet customers by name. They inquire about family, pets, school. Friends meet up to get lemonade at Papusa's, braving the fifteen minute wait. Small business owners support one another; as I walked by the honey stand, its vendor was filling up a vase with water for his newly acquired lilies from the flower stand a few tents down.
There's a large range of prices, depending on the vendor and product. I found that five dollars is the rule of thumb: it'll get you a box of strawberries, a cheese danish, or a container of salsa. Some of the prices are too high—no one I know is going to pay $20 for a small jar of pistachio butter—but most others are within reason. The food is relatively well priced, too; you might pay $8 to $16 for high quality food at any stand. I might spend a little more than usual, but the voice in the back of mind says, "You're supporting local businesses, it's worth it."
At the end of the day, that's what the farmers' market is all about: supporting the community. While it might not be possible for students from surrounding districts to browse the stands during school hours, many families and individuals do take advantage of it to shop locally. So, if you or your friends and family ever have a day off and are looking for something to do, spend a few hours at the Manhattan Beach Farmers Market. Eat good food, talk to new people, and slow down enough to take a breather. It's something we should all try to do a little more often.
Leave a Comment
About the Contributor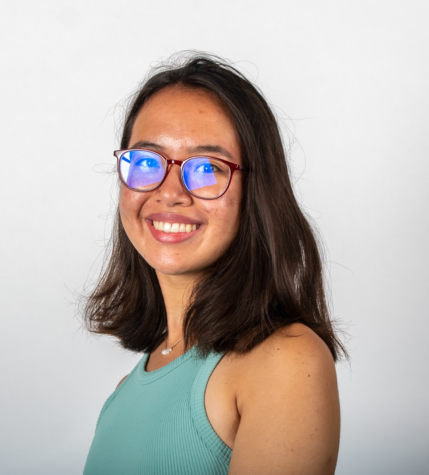 Lucy Davis, Online Editor
Junior. Lawyer, delegate, player of golf, writer. Will check in with you every Tuesday. I like to think that my stories are as good as my grilled cheese sandwiches, and I've heard positive things about...