For the love of basketball
Olympian Atonye Nyingifa reflects on her experiences and time at RUHS
Redondo Union alumnus Atonye Nyingifa did not dream of becoming an olympian until two years before her first Olympics: the 2020 Olympic Games in Tokyo.
During her freshman year of college, Nyingifa tried out at the USA Olympic trials where she first tore her ACL.
"Things didn't work out with Team USA and I really just thought that being an Olympian would probably not be in my future," Nyingifa said. "I also didn't know that I could play for the Nigerian national team. In fact, I didn't even know that it existed until I left college."
Nyingifa joined the Nigerian national team five years ago where she and her team won against the top teams in the world. 
"First, we dominated Africa," Nyingifa said. "We went on to play against European teams, play in the World Cup, and at some point I realized 'Oh my god. We're two games away from becoming Olympians.'"
Nyingifa has been playing since she was six-years-old and "she wasn't always good at it when she was younger."
"I just stuck with it," Nyingifa said. "I ended up playing with my older sister's age group; so by the time I played with my own age group, I was actually pretty good."
Starting at a young age, Nyingifa had also been dealing with eczema.  She had to alter different aspects of her lifestyle during her childhood.
"I would have to change immediately out of my clothes after practice because of the sweat," Nyingifa said. "I had to wear open-toed shoes to school. There were just a lot of things that I didn't know how to manage, and I think my parents probably didn't know how to manage it all either."
Despite the rashes Nyingifa would experience from her physical activity, she knew that basketball was her "chief passion." 
"It outweighed any amount of struggle that I'd have with my skin," Nyingifa said. "My older sister also played basketball and anyone that has an older sibling knows that sometimes you kind of want to follow suit."
Nyingifa believes that the structure of the Girl's Basketball program run by Redondo Union coach Marcelo Enriquez led to her success at UCLA. 
"I had a lot of success because I knew what discipline and structure I needed to do to help the team," Nyingifa said. "I inadvertently carried this into my professional career and to this day. I knew how to train myself and do what is asked of me and a lot of that came from my time with coach Marcelo."
According to Enriquez, Nyingifa came in as a tall freshman with long arms, outstanding athletic ability, and a great nose for the ball.
"She was an amazing athlete at the start," Enriquez said. "I could go on and on about Atonye and her ability to continue to impress us all the time."
Nyingifa played against Diamond Bar high school during her freshman year where she scored 18 points and had 23 rebounds. 
"The quote from the opposing coach was 'that girl just eats glass,' referring to her ability to rebound," Enriquez said. "For her to perform that well as a freshman was just impressive."
Enriquez and his family watched Nigeria play against team USA on TV. 
"It wasn't just an extraordinary accomplishment for Atonye, but a great representation of what female athletes are capable of," Enriquez said. "It was amazing to see her up there, and I feel like a proud papa."
Leave a Comment
About the Contributor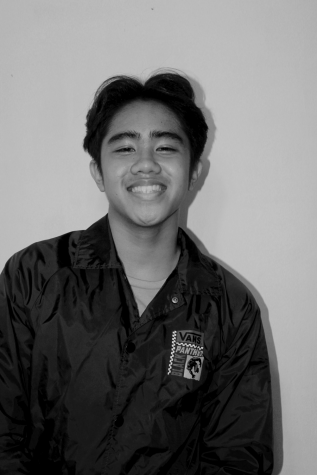 Ansel Reyes, Entertainment editor
I love the high tide! Yes yes yes!