A double standard
Performers of color are disproportionately villainized for embracing their sexuality, race and culture
In 2016, when the renowned singer-songwriter Beyoncé starred in the Super Bowl halftime show, the Federal Communications Commission (FCC) received 47 pages of seething complaints from viewers, hatred and racism being common trends. But this wouldn't be the end of these extreme reactions, as this number pales in comparison to the more than 1,000 emails (following very similar trends) that bombarded the FCC on the night of the 63rd Annual Grammy Awards, following Cardi B and Megan Thee Stallion's "WAP" performance.
Going back to the ruckus of 2016, some said that Beyoncé's performance was "full of hatred and racism," as the Black Panther outfits she and her dancers wore were called "no different than white people wearing KKK attire" by one anonymous viewer. And like Cardi B and Megan's "WAP" performance, most complaints called the performance "disgusting," "filthy," and "slut-shamed" the singers and dancers for their revealing clothing. One viewer of the "WAP" performance even said that it was nothing more than "sluts being sluts."
"The left is fine with the disgusting performance Cardi B just gave at the Grammys, but Dr. Seuss is too dangerous for children?" conservative commentator Charlie Kirk asked. The hit single "WAP" by Cardi B and Megan Thee Stallion stands as a monumental symbol for women, as it is one of the only examples of female artists embracing their sexuality to the fullest, released after years of male rappers releasing incredibly sexual music (which almost always degraded women) with minimal backlash. Besides the fact that it was the Dr. Seuss Enterprise that decided to withhold some of their own titles due to racist imagery, female empowerment and the rejection of sexist standards in music are incomparable to cartoons that perpetuate racist stereotypes of Asian Americans.
These performances follow years of singers like Lady Gaga, Miley Cirus and Katy Perry wearing revealing outfits in their performances with minimal complaints; people accepted it as a part of show-biz. And so a pattern is established: when women of color embrace important facets of their identity (race, culture, sexuality) on the public stage, they are shamed, from their looks, to their clothing, their gestures and their messages.
American rapper Lil Nas X, known for staying at the top of the US Billboard Hot 100 for 19 weeks straight and for being open about his sexuality as a gay man, also faced harsh criticism after this year's BET Awards and the MTV Video Music Awards. He was hit with homophobic comments addressing his clothing (again) and his use of shirtless male back-up dancers. In June, he tweeted a response to the criticism, telling the commenters to "work on themselves," further stating that he "loves" who he is and what he decides to do.
It was perfectly okay when Taylor Swift used virtually naked back-up dancers on her 1989 tour in Australia and Harry Styles wore a pride flag during his performances on his world tour beginning in Las Vegas, but Lil Nas X is disproportionately villainized, which can be compared to the experiences of Beyoncé, Cardi B and Megan Thee Stallion.
All celebrities receive some sort of criticism during their lifetimes, but it is important to notice these blatant examples of double-standards against artists of color that embrace their own sexuality, race and autonomy over their bodies.
The complaints of vulgarity and obscenity can not be taken seriously when other straight, white artists get off scot-free doing the same stunts. It was never about "protecting the children" or "being professional"; these artists are valid, influential icons, and should be treated as such.
Leave a Comment
About the Contributor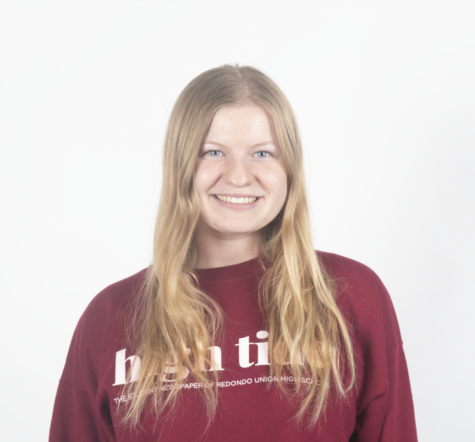 Ruby Crosthwait, Editor In Chief
Hi! I'm a book, dog, and boba lover, and I don't really know what I'm doing, but who does?