Hermosa Beach Chicken Shack review
A great local choice for Peruvian food, staff writer Ethan Lerner gives this restaurant 8/10 stars
The iconic bright yellow car with a comically large chicken head on it: if you've been outside in the past ten years you've probably seen it. What other reason is there to visit Chicken Shack on Aviation Blvd. in Hermosa Beach? Oh that's right, they also cook authentic cuisine that makes Peruvian food culture feel that little bit closer to home. Even though the entire reason I went to the restaurant was to see the chicken car, I thought since I was there, I might as well check out the food too.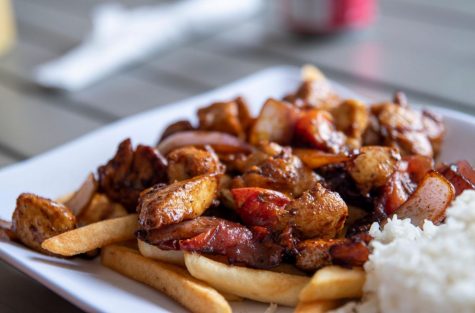 A friend and I went on a Saturday afternoon, and to my surprise, the restaurant was empty. However, the space was accommodating enough for several four person families even while following COVID-19 indoor dining guidelines. The decor was bold, like the chicken car outside, with food options on the walls backgrounded by brick tiles, bright red and yellow paint, and booths. Service was exceptional and we waited no more than 10 minutes for our food, but my friend and I were the only ones there, so take that as you will.
The two of us ordered the pollo saltado and the lomo saltado, or stir-fried chicken and beef dishes, both of which came in at 17 and 18 dollars, respectively. The dishes were completely identical except for your choice of protein. The two came with fluffy french fries, sauteed onions and tomatoes, as well as white rice. The bite-sized chicken pieces had a light-char but were very juicy, tender and rich, if not a bit salty after a while. Same goes for the beef, it had a dark color on the outside and paired well with the savory sauce and good texture. 
The rice was a bit flat flavor-wise, and it would've been nice to see it tossed with something to add a layer of extra flavor. The french fries also kept their crunchy outside, which is impressive since there was quite a bit of sauce. The tomatoes were soft and maintained a lot of their juiciness even after being stir-fried. The onions also maintained the spicy-fresh flavor and crunch you'd expect. The one thing I took issue with was after eating most of the plate the food started to taste saltier, which didn't kill the flavor but definitely became more noticable.
Chicken Shack also provided two different sauces. Their green sauce was an earthy cilantro sauce with hints of lime juice for acidity. As well, there was a semi-spicy sauce that was akin to a Peruvian version of spicy mustard.
We also tried two Peruvian drinks, Inca Cola and Passion Fruit Nectar. The Inca Cola was a gold-colored fizzy soda not like anything I've ever had from the U.S. It tasted like a mix between sweet cream-soda and bubblegum but that slightly odd mix didn't ruin the flavor and it was actually quite good. The Passion Fruit Nectar was super sweet and fresh juice that served well to counteract the saltiness from the main dish.
Overall, Chicken Shack is a great choice for local Peruvian food and the different variety of flavors and textures provide an incredible depth to a food culture most would never get to experience first-hand; however, the price is high per serving. If you want a treat and you want something different, Chicken Shack is a solid option to expand your list of international foods to eat.
Leave a Comment
About the Contributor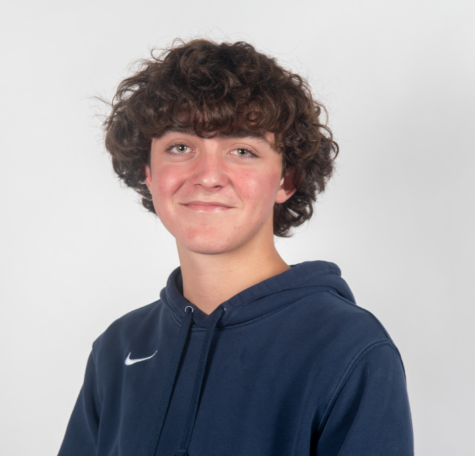 Ethan Lerner, Writing Editor
Hi! I'm Ethan, I'm a junior and this is my third year on staff but first as a Writing Editor. Outside of school I like to be outside of school.