Amanda Morton announces retirement
Math teacher Amanda Morton decides to retire after 30 years of teaching
After 22 years and nine different classes at Redondo, math teacher Amanda Morton is ready to retire. She feels bittersweet about her decision: Due to the difficulty of teaching in a pandemic, retirement initially came as a relief for Morton, but parting ways with teaching has been an emotional process. 
"It was a hard decision. At first, I thought, 'Yes, let's do this,' but once I actually committed myself, I felt kind of sad. Teaching math is something I've been doing for 30 years, and I'm not going to do it anymore," Morton said. 
When Morton was originally offered a job in the Los Angeles Unified School District, she was unenthusiastic and reluctant to the prospect of teaching.
 "I actually didn't want to teach. I was substitute teaching, and the principal begged me every year to become a teacher. I wasn't that excited about the idea, but I was 20-something, and I just said I'll do it," Morton said.
However, her decision to give in to the Los Angeles County principal resulted in a career that centered around Morton's passion for education—sharing her love for math and engaging with her students—which has given her a higher sense of purpose and contribution.  
 "I just love teaching the kids and being in the classroom. When they say 'Oh, I get this now,' or 'Thank you, Miss Morton,' it's one of the best feelings in the world. It's truly the best thing you can hear," Morton said. "You feel like you're actually contributing and you're doing something good. I'm going to really, really, really miss the teaching part." 
Morton notes that her final school year has been particularly difficult, as online learning has made even the most experienced teachers feel like it is their first year. 
"This has been the toughest year ever for so many reasons. It was so hard to learn how to do Zoom and all of the new technology. To not have that connection with kids being in a classroom—joking with them, listening to their stories and talking to them and getting to know them—it's been really tough," Morton said. 
Reflecting on her career, Morton is glad to have spent 22 years teaching at Redondo. She says the quality of her coworkers and students' character has remained unchanged. 
"I think the faculty has always been awesome. They have always been a cohesive group of professional, hard workers that get along. We have so many dedicated teachers I've gotten to work with, and we have a really great math department. I also think the kids at our school have always been really good kids. That has never changed," Morton said.
Although Morton will miss the Redondo community, she has a lot to look forward to in retirement. 
"I'm going to play as much beach volleyball as I can. I play with my friends and we always laugh as my students pass by waving and yelling my name. I'm also excited to be able to travel anytime of the year that I want. I've crossed off a lot of my bucket list, but I want to go on a African safari. I'd also love to visit France, and go back to Ireland and Italy," she said. "I'm definitely not going to miss grading, but I do plan on tutoring math in retirement."
Saying goodbye to something Morton has enjoyed for so long will be difficult, but she is excited to open her next chapter and will be forever grateful to the Redondo community and all that it has taught her.
"Teaching has really taught me patience. It's just not worth our time to get angry over silly things, and I've learned sometimes we just have to let things go," Morton said. "Redondo has been a really, really good school to work for. I'm looking forward to retirement, but I'm really going to miss teaching."
Leave a Comment
About the Contributor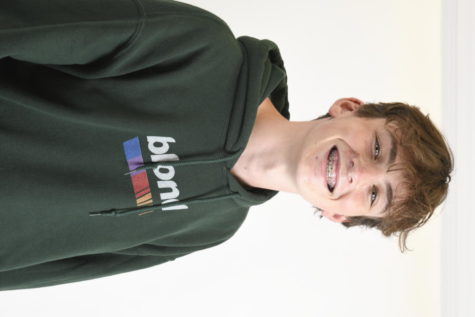 Ben Ringel, Online Editor
Approximately 70% of my High Tide work is done at Coffee Cartel.