Produced by Michelle Obama, 'Waffles and Mochi' is a Treat
It's a filling show despite it's young target audience
"Waffles and Mochi," Netflix's new series featuring an unusual main character duo, premiered on Mar. 16. Produced by former First Lady Michelle Obama, the show centers around Waffles, a half yeti half frozen waffle, and Mochi, a strawberry mochi. 
The incorporation of these puppet-like, friendly protagonists help to further engage the show's target audience of younger, elementary-age children. Due to this intended group of viewers, the episodes were colorful, straightforward, and slow-moving at times.  
At the beginning of these episodes, Waffles and Mochi leave their icy home, the Land of Frozen Foods, with dreams of becoming chefs and learning more about real, fresh foods. They then become hired by Mrs. Obama at her grocery store. 
This store is filled with other talking puppets, including Shelfie, the grocery store shelf, and Intercommy, the store loudspeaker. These additions again aided in the show's purpose of enticing small kids. 
During each of the 10 episodes, all around 30 minutes long, Waffles and Mochi learn about one ingredient, such as tomatoes or pickles. To discover more about how the specific ingredient grows or how to cook with it, these two best friends take their flying shopping cart, known as the MagiCart3000, on journeys to various countries around the world. 
Their discoveries help solve issues within the grocery store and help the aspiring chefs become better at cooking.
Even though this show was meant for young kids and was a bit childish at times, I learned a lot and was especially engaged during parts relating to the pair's successful travels.  
Waffles and Mochi's countless trips in their MagiCart especially helped me learn numerous facts about the various food items. Through watching, for example, I found out that there were 10,000 varieties of tomatoes and over 5,000 potato varieties in the world. These were stats I wouldn't have otherwise found out about. 
I also enjoyed the plentiful amount of famous guests in the show, including Michelle Obama, the creator of the show and grocery store owner, actor Jack Black, and singer Lionel Richie. There were additionally many famous chefs that taught Waffles and Mochi more about the specific ingredients and how to cook dishes.
Since Waffles and Mochi went to so many different places in their MagiCart, various cultures were shown throughout the show as well. It was very eye-opening to see how different types of people lived and the importance they placed on particular ingredients. 
Aside from the many positive aspects of Waffles and Mochi's adventures, they realized and learned valuable messages with the help of Mrs. Obama at the end of each episode.
Some of these included the importance of belonging, patience, friendship, love, gratitude, and perseverance. These aspects apply to cooking as well as real life, and their vitally was really reinforced in me as well.
Despite the obvious childlike and repetitive components of the show, "Waffles and Mochi" is a fun and simplified way to learn about the background of different ingredients used in cooking. You'll definitely be able to feel a little more educated and take beneficial lessons away from watching.
Leave a Comment
About the Contributor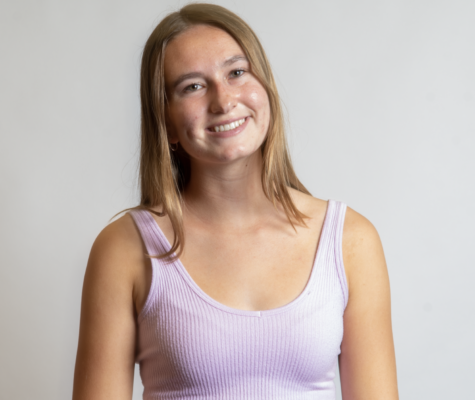 Erika Glass, News Editor
Second year news editor and avid milk drinker.