Robotics from afar
The RUHS Robotics Team submits at-home challenges
FIRST Robotics is designed to be a "really intense sport," according to senior Kelly Flippo. 
Normally, at the start of the robotics season, a video is released explaining the rules of the game. Then the team spends six to eight weeks designing and building a robot to accomplish the tasks of the game, and then battles to win a ticket to the championship.
"Going to competitions was so fun last year, everyone is so involved because we're all at the hotel, and then you're there with people working in pits and some people are scouting and some people are just watching, but everyone is doing something," Flippo said. 
Their season was cut short after the first week of competition. The team was stopped at semi-finals and even placed first in qualification rounds. 
This year, FIRST released statements saying that they were using the same game idea but with the addition of a couple of new ways to compete. Junior Colin Choy is also a part of this new experimental competition style. 
"I would much rather have the normal full competition where we're all physically building a new robot, but I think it's nice how it still gives every team the ability to participate. It's better than nothing," Choy said. 
One of the alternative challenges is the Game design challenge, where the team drafts the rules, pieces and layout for a game involving six robots. All that information is scripted in a Game Manual to be submitted for review. 
"There's more than one way to play the game. It's not just one clear way to solve the problem, that's kind of the whole point of a lot of FIRST games," Choy said. 
Another challenge is the At Home Skills Challenge. Different elements from last year's game, such at throwing a ball,  were turned into five individual challenges on a smaller scale for its accessibility at home. Programmers will code the robot to complete those challenges and a video of the robot running the program is submitted. 
"Definitely the [At Home Skills] challenges are the most fun part because it's the most like normal robotics," Filippo said, "You actually get to interact with the robot, eventually."
Even without the hands-on experience of building a new robot in the lab the team has still been working on what they can at home to start preparing for later seasons. 
"I think it opens up a lot of different projects that we wouldn't normally be looking at if we were still in person," Choy said. 
Choy is currently working on a Pit Case, which is a storage unit for all the parts and tools needed during a competition. Everything they need would be held in two big black cases that could easily be transported. He uses CAD, a digital design software, to design parts as well as scouting the HomeDepot database to find tools. 
"We're trying to map out everything we have so maybe by the end of the summer everything can be ready. If we return to the lab we could build it and we won't have to wait for anything," Choy said. 
Even with all the adaptations this new season can not be everything previous seasons have lived up to be. Intense sports are difficult to run online, according to Flippo. 
"Last year it was a basketball game, but this year it's like an online free throw competition," Flippo said. 
Photos of the robots to be submitted for the At Home Skills Challenge. "Normally the competition is a match with three robots on three robots. This year you're just doing a specific part of the game," Flippo said.
Leave a Comment
About the Contributor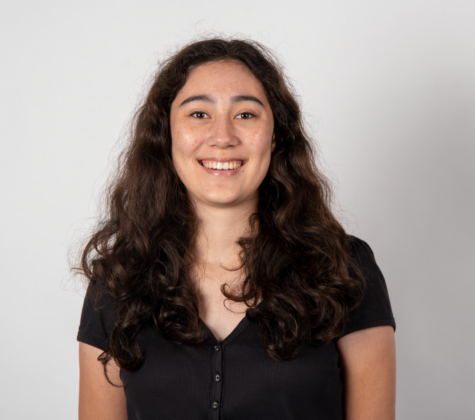 Emilie Takahashi, Features Editor
Hi! My name is Emilie, this is my fourth year on staff and did you know that green onions are super easy to grow in your backyard? Because I didn't know until I told my friend how excited I was about growing...