Raspberry Oatmeal Bar Recipe
Hadley Short shares a recipe for a healthy dessert option
You know those snacks that are just the right balance of tasting like dessert without actually counting as dessert? These raspberry oatmeal bars are one of those. They're incredibly easy to make, taste delicious, and have enough nutritional value that I can consider them more of a homemade granola bar than a baked good… and eat three of them in a row without feeling remotely guilty. This recipe also works with vegan alternatives, and is easy enough for even the most amateur chef to master.
INGREDIENTS
For the Crust:
2 cups oats

1 ½ cup flour (or almond flour)

1 cup sugar (coconut or cane)

1 tsp baking powder

½ cup butter (or vegan alternative)
For the Filling:
2 ½ cups raspberries

3 tbsp sugar (coconut or cane)

2 tbsp cornstarch

4 tbsp lemon zest OR 2 tbsp lemon juice

¼ tsp vanilla extract
INSTRUCTIONS
Preheat the oven to 350℉.

Start with the crust by combining all dry ingredients (oats, flour, sugar, and baking powder) in a large mixing bowl.

Melt the butter in a small bowl and add to the dry ingredients. Start with half a cup of butter, and add more if necessary. The oats and flour mixture should stick together when pressed with a spatula. 

Press ¾ of the mixture into the bottom of an 8 by 10 or similarly sized pan.

Next is the filling: in a small mixing bowl, mash the raspberries using a whisk, fork, slotted spoon, etc. The texture should resemble jam. 

Add in the sugar, cornstarch, lemon (zest tastes better, but juice is an acceptable substitute), and vanilla. Mix together.

Pour the raspberry mixture over the crust in the pan and spread evenly.

Top with the remaining ¼ of the oats and flour mixture. Press down gently using a spatula.

Bake at 350℉ for 60 minutes or until crust is golden-brown. Remove from oven, let cool, and cut into squares to serve. Enjoy!
Leave a Comment
About the Contributor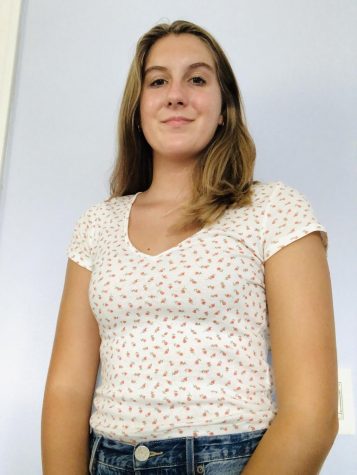 Hadley Short, Staff Writer





This is my first year in Journalism. I am also involved in Theatre Arts, and I love to play piano and guitar.