Ms. Yi and Mr. Takesue win the Homecoming Staff Service Award
The two teachers won the award which recognizes teachers who make their students a priority
This past year has had its share of heroes from all corners of the world. Here at RUHS, the ASB created the 2021 Homecoming Staff Service Award to acknowledge teachers who have made service to their students a priority. 
Angie Yi, who teaches English Honors and Critical Approach to Current Issues, is one of the recipients of this award. Kitaro Takesue, who teaches AP Literature and English 10, is the other. 
The teachers found out they won the award when Ms. Mata and Mr. Brandt showed up in their classes during the school day. Takesue and Yi both say they "had no idea" about the award and were even further surprised with a video montage of current and former students congratulating them and thanking them for their service. 
"Watching that video, I couldn't stop crying. I really started crying when I saw my students from last year. Those are the students I had for half a year and then we went into quarantine, and I never said a proper goodbye. I just wanted to reach into the screen, give them a hug, and tell them how proud I am of them," Yi said. 
Starting off the school year, Yi gave her students monthly challenges in order to focus more on mental health. For example, she challenged her students to listen to music right before class because she believes that if her students' spirits are lifted before class, they are likely to be more engaged in learning. 
"I gave my students a slew of things they could do to not only bring awareness to their mental health, but to sit with it and see what tangible things we can do to improve it. I wanted them to know I see their struggles, and I am struggling right alongside them," Yi said. 
According to Yi, she has made an effort to create a space where students can voice their opinions, even if it is just light hearted things, such as alternative ways to have reading discussions and run break out rooms.
"I try to create a safe and judgement-free space where we can talk about social justice issues, mental health and other things going on in the world. I also really try to listen to my students. I think that's another reason why they feel so comfortable in my class. Not only are their voices heard, but I am going to act upon what they are saying. " Yi said. 
Along with Yi, Takesue has supported his students by working together to create a class environment that works for everybody whether that be providing extra help or asking for extensions on assignments. 
"I have worked really diligently throughout the year to provide a community of support for all of my students and to humanize distance learning as much as possible. I like to spend time acknowledging the toll distance learning has had on all of us. For my students to recognize that and say that they appreciate it means a lot to me, and it shows that I am moving in the right direction," Takesue said. 
One message that Takasue wishes to convey to his students is that he believes the more time that students spend reading, the more empathetic and understanding they can be as people. 
"The role of reading is paramount in building empathy. It is a very vulnerable thing to open yourself up and think someone else's thoughts. It's special to speak with their voice, and what an opportunity it is for us every time we get to open up and get to live a little bit in somebody's head," Takesue said. 
Takesue acknowledges and praises all the other staff members and students involved in the school process happening, since "this year has been like no other." 
"I know it's such a cliché thing to say, but we are all doing our best. It's teachers, students, parents, everybody. We are all trying to make the best of this and I want to acknowledge the hard work all of the school staff is putting in. There are a lot of people involved in making our school work. Now, more so than ever. They say it takes a village and it really does," Takesue said. 
Takesure prioritizes not only his students' academic success, he says, but also their personal and emotional happiness. 
"In our society in general, we'll be walking down the street and see someone and go 'hey how's it going?' The answer to that is never authentic. Nobody's ever like 'actually, it's pretty bad, sit down let me tell you about it.' I have learned to frame things around what we all need right now, like what kind of support do we need from teachers and what do we need from our peers? I think that's an important framework of what the service award is all about: asking kids what they need and changing myself to meet that," Takesue said. 
Leave a Comment
About the Contributor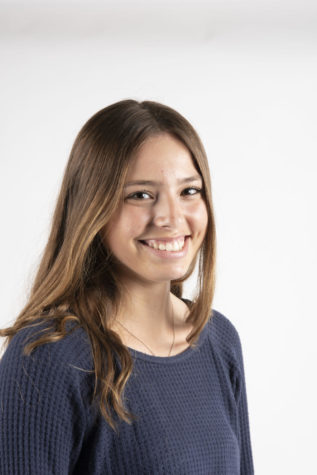 Jess Alvear, Sports Editor
Heyyy! My name is Jess Alvear and this is my third year on staff and my first year as a sports editor! In my free time, you can catch me playing softball and watching The Bachelor. I am so excited to continue...