Girls water polo returns to a short season
With only a three week long season, girls water polo prioritizes bonding over winning
Girls water polo has finally begun, but it's already coming to a close.
School sports are back in session, but COVID-19 restrictions are preventing the players from having a full, regular season. This year, the girls water polo season is three weeks long, as opposed to the usual three months. So far, the team has a 4-1 record after beating Mira Costa 11-10 today. 
"We only had five days of water polo practice before our first game after having the year off, which has affected our playing skills. We were only allowed to do swimming practice, so we're not at the level we would normally be at," sophomore Mia Calvo said.
In addition to an adapted season, the number of spectators is limited to four people per player, and each player needs to be tested weekly and remain six feet apart while not in the pool. There is also no Frosh team this year.
"The most challenging part about playing this year isn't the COVID restrictions, but the fact that before three weeks ago, we weren't allowed to do any water polo practice, and then all of a sudden we were and then were thrown into games. We're a winter sport, so usually, we have all of the fall to practice before playing games, so that was difficult," senior Rylee Kang said.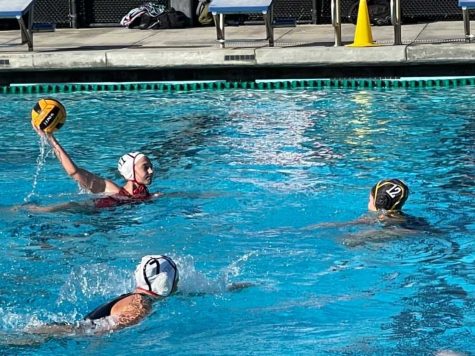 Due to the shortage of time playing together, the team has not been able to do bonding activities like in previous years, so new players struggled to get accustomed to the team.
"The good thing is that most of the varsity girls have been together for the past three years. Only myself and four or five other girls are new, and we know each other, but it's still definitely an adjustment to learn how to play with the team so quickly because playing is different than when you're talking and hanging out," Calvo said.
Team bonding and getting better is the "main" focus rather than just winning this year because there is no CIF for the team to compete in.
"This season, we're just trying to get a feel of being able to play together really well, and get everyone as much playing time as possible," Kang said. "It's not as much about winning, but being able to play the team and have fun."
Leave a Comment