A new investment
Sophomores Sean Stassi and Ryan Parhizi cash in on the stock market
During the middle of the pandemic, the most economic activity many teens may have partaken in is exchanging bells in Animal Crossing or saying "stonks" instead of stocks.
Sophomores Sean Stassi and Ryan Parhizi began investing in the stock market last June as a way to make money while sidestepping the difficulty of being employed in the present day. 
"During middle school, the thing that first caught my eye when it came to economics was the rise of Bitcoin and cryptocurrency as a whole," Stassi said. "When I needed a lot of extra money to buy car parts, it was a perfect time for me to start inserting myself in the commercial world." 
Although stock investors are able to make hundreds of dollars in a matter of days, debt is also an outcome that is not uncommon, which puts forward a worthy risk for people trying to make a quick buck. 
"The stock market can get really hectic sometimes. Last week I was up $500 dollars and this week I was down $200, so it's crazy how fast people can make money and lose it," Stassi said. "The climate is extremely volatile, and it is a risk every time I put my money out there." 
Another factor that debt can stem from is making impulsive and unwise investments that result in investors losing money they did not need to.
"It becomes much more tempting nowadays to invest when I can simply log on to my computer and click 'buy' in a matter of seconds, which is actually good because it disciplines me into spending my money more wisely," Parhizi said.
Investing in the stock market also acted as a stepping stone for Stassi and Parhizi to start their own company which is currently in development, in which they buy computer parts from Europe and sell them to the consumers. 
"We chose this product because the popularity of PCs are rising due to people being indoors a lot more now. We feel like it is a very untapped product that will be increasingly important in the future," Parhizi said. 
The opportunity the pandemic opened up for Stassi and Parhizi helped them establish themselves as growing businessmen and helped shape their interests toward growing and adapting their business in the future.
"The best part of getting into economics and the stock market is that we are getting exposure and making connections with people now. When we are in the primes of our lives, our experience and background will make it easier for us to succeed," Stassi said.
Leave a Comment
About the Contributor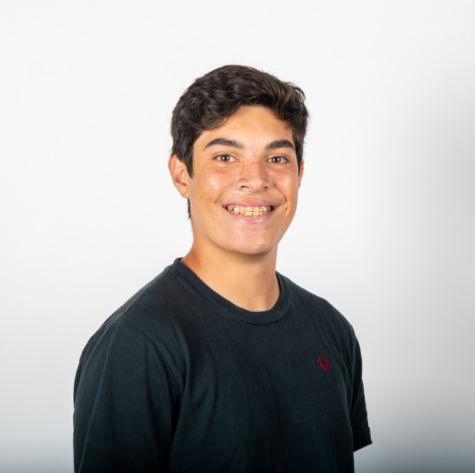 Ty Soria, Sports Editor
So excited to be in my 4th year in High Tide and second year sports editor. I play football and throw shot put and discus for the school and play lots of other sports as well. Come to the sports debate...