K-9 Meredith Rock Scavenger Hunt
K-9 Meredith's owner, Sharon Rose, has been placing rocks around Redondo Beach
Sharon Rose, owner of K9 Meredith, has been placing painted rocks around parks and schools within Redondo Beach as part of rock-hunting activity.
Rose's aim was to find a unique method of gathering people together for an enjoyable activity without putting anyone at risk. 
"I paint rocks as a hobby. I had a bunch of them, so I thought it would be fun to hide them, and people can find them. At first, I didn't know how this was going to be received or if anyone was going to actually look for them," Rose said. 
So far, she's hosted hunts at Veteran's Park, Anderson Park, Perry Park, RUHS and Adams Middle School, though she said she's planning to hide them in other parks and schools around Redondo. 
According to Rose, many people of all ages have been participating in the search for her rocks. She uses her Instagram account (@k9meredith) to release clues about the location of the hidden rocks every Monday at 7:30 a.m.  
"You can follow her and see what the clues are, jam out and find the rocks. [The rocks have] a card on it saying 'You found it,' and Meredith's name on the bottom. You post a photo of it, and I know you're the winner. Then I can tell people the rock has been found and give them a prize," Rose said. 
Rose said she designs the rocks to spread positivity around the community. Along with painting a pawprint on each of them, she inscribes encouraging and uplifting words.
"We need a lot of positive in the world right now. It's something that brings a smile to people's faces," Rose said. 
While still taking precautions, Rose also uses this opportunity as a way to reintroduce Meredith back to seeing people, after being deprived of social interaction for so long. 
"She's excited to go out to see people," Rose said. "Everybody loves her. They just want to see her and pet her. It's all just positive."
Because the rock hunts have been successful, she is confident that her idea is a strong baseline for other exciting activities in the future. 
"People love getting out there and looking for the rocks. It seems like people get really excited about it, and look forward to the clues that come up," Rose said.
View Comments (1)
About the Contributor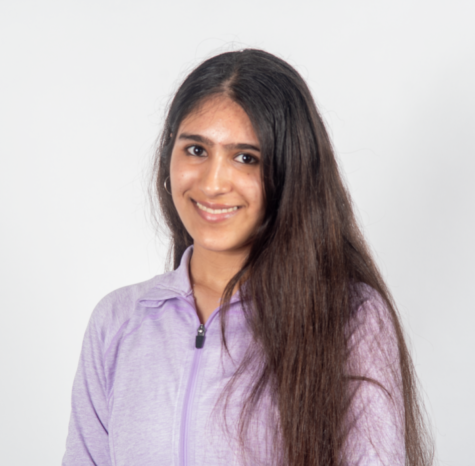 Simra Zargar, Writing Editor
Hi, I'm Simra and this is my third year on staff. I'm a writing editor.