"I want this brand to be something very different:" Alec Swenor initiates his own clothing brand
Called Etc., Swenor's brand kicks off in the beginning stages
Swenor is creating a clothing brand called Etc. Although his clothing line has not officially made its debut, he is working on creating graphics based on current streetwear concepts.
"Right now, I only know how to design graphics, so I'm working on things like t-shirts and hoodies and stuff. I don't want to be just a T-shirt brand; I want to learn how to make the garments myself. I like the idea of expanding to jackets, bags, pants and other types of clothes," Swenor said. 
Swenor has been interested in fashion and design since late 2018, and was inspired by Tyler the Creator and Odd Future's clothing lines. He really liked how unique their clothing lines were from what other popular designers were creating. 
"Since late 2018, when I discovered Tyler the Creator and Odd Future, I became interested in fashion and design. I really liked Tyler the Creator's clothing line Golf Wang and Golf le Fluer. I wouldn't say his work is what really inspired the clothing I'm making, but I definitely say that if I hadn't found his clothing lines, I wouldn't have been as interested in fashion that early in my life," Swenor said. 
Swenor wants his brand to be something different than the basic streetwear that is being made today. Even though he does like popular streetwear, he wants his brand to be different from the trends. Swenor is creating different graphics for his clothing that showcases his art style that provides a message to the customer. He wants his clothing to tell a story through the graphics and the words on the story. The story he tells through his unique art is like therapy for Swenor. 
"I want this brand to be something very different. When I look at streetwear pages, all I see is like the same big vintage looking graphics.That stuff's cool, but I want to make something more genuine and emotionally honest, where I put the same amount of thought into the graphics that you'd put into a song or something," Swenor said. 
Swenor wants to make a clothing line that is inclusive to everyone. He wants everyone to be able to enjoy his clothes. 
"I wouldn't say I have a target demographic, just whoever likes my stuff likes my stuff. I make what I feel.I don't really think about who I want to buy my clothes. That might change in the future, but that's just where I am right now," Swenor said. 
Swenor believes COVID-19 has impacted himself and his new business for the better. It helped him figure out who he wants to be as a designer.
"I've always learned from home and through the internet. I'd say it's actually impacted my clothing for the better because I can't really do anything else. It's given me more time to focus on what direction I want to go in and what I want the aesthetics of the brand to be," Swenor said. 
Swenor wants to be in fashion in the future,whether that means continuing to develop his brand or working for a big name brand in the fashion industry.
"There are lots of huge designers like Ralph Simmons. He has his own brand named after himself, where he does collections and stuff for other brands like Calvin Klein and Dior. I could do that or just do my own thing. Either way, I'd be happy to do that. I just want to work on my graphics and really perfect all of my clothes before I start to sell them," Swenor said. 
Leave a Comment
About the Contributor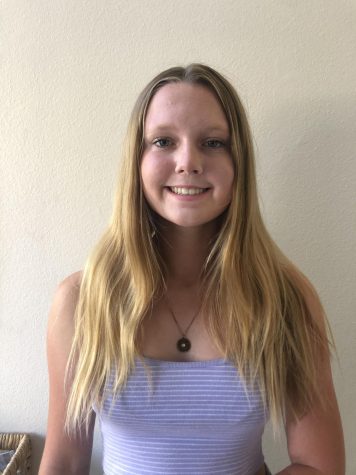 Sarah Shurtleff, Staff writer
Hi i'm Sarah Shurtleff. I am a freshman at Ruhs. I like to play softball. I also like to go to the beach. I am excited to be joining Journalism this year!