Bloomer appointed to SoCal Regional Director of Beach Cities High School Democrats
Senior Madeleine Bloomer uses her platform to advocate for student voices in politics
High School Democrats of America (HSDA) is a national political organization for youth across the country interested in becoming active within the American political system. Senior Madeleine Bloomer, who is currently the head of the Beach Cities High School Democrats chapter, has recently been appointed as the Southern California Regional Director of the organization. 
HSDA focuses on getting high schoolers nationwide involved in projects and events. Previously, Bloomer's Beach Cities chapter has worked with others on California propositions, as well as organizing phone banking against police brutality. 
"HSDA generally [works] on electing Democratic candidates, implementing Democratic legislation, working for social justice causes [and] climate change," said Bloomer. "It's up to the group what they want to take on, but any number of issues that can be solved on a political level are fair game." 
In her new position as Regional Director, Bloomer's main role is communicating with HSDA members in Southern California, helping to ensure things are running smoothly. Moreover, she is also involved in event planning and is currently working on Senate runoffs with other members of the organization.  
"We are the people on the board that are the closest to our general membership," said Bloomer. "We communicate with chapter leaders and other members, talking with them and helping them if they need anything. Anything that members need from the state board generally comes through us."
Earlier this year, HSDA held student-run elections for Chairman and Vice-Chairman of the organization. Because Bloomer has been an active chapter leader in the Beach Cities since she was a sophomore, she was approached by several candidates trying to garner her support and receive her endorsement. 
"I got to know our current vice chair pretty well when she was campaigning, and when it came to them opening up applications for the appointed positions, she asked me if I'd be interested. They were trying to get some more females on the board because that hasn't really happened in the past," said Bloomer. 
At the moment, one of the big things that HSDA as a whole is working on is expansion into areas nationwide to help give high schoolers a voice in the American political system.
 "We're trying to get more members, especially in underrepresented areas because in the past we have not been great about including everyone. We are trying to fix that this year by growing our membership in areas that we didn't really have [members] before," said Bloomer. 
As head of the Beach Cities HSDA chapter and now Southern California Regional Director, Bloomer has made multiple friends and connections across California each joined together by a passion for politics. She enjoys working towards a better future for all Americans, not just those in California. 
"It's important to me to work [toward] Democratic causes, [and] it's something I like doing. It's nice to, as a highschooler, be able to advocate for Democrats."
Leave a Comment
About the Contributor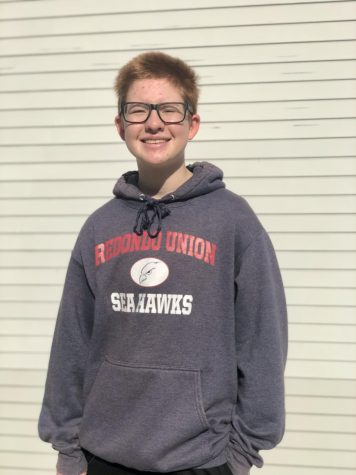 Nikko Englund, Staff writer





My name is Nikko Englund and I am a freshman! I like sports, playing video games with my friends, and history. I work as an intern for the Democratic Party and hope to continue doing so into...