Tales of an essential worker
Chesney explains how grocery stores and their employees have adapted to the pandemic
The pandemic has posed many new challenges for people in the workplace. Jobs where employees are face-to-face with the public have a new set of requirements and guidelines in addition to their regular duties. 
Senior Trinity Chesney works at Vons in Manhattan Beach. The grocery store expects its employees to make sure everything in the store is clean to reduce the risk of exposure to COVID-19. 
"Everything in the store is clean to decrease the customers and employees' chances of contracting COVID-19. Most customers and all employees are wearing masks and keeping their distance from each other in the store. I am mindful of the virus at work. I make sure to use hand sanitizer after every customer," Chesney said. 
Chesney's job at Vons is to bag groceries for the customers. It is "difficult" for Chesney to do her job the same way as she did before the pandemic. She had to change and modify the way she bags the groceries. 
"Since the pandemic, cleaning has become an essential part of my job. I have to wipe down my station after bagging each customer's groceries. It is an additional step, but it's worth it because it makes the customers and myself feel safe," Chesney said. 
Despite having to adjust the way she performs her job, Chesney is "grateful" that she is still employed during the pandemic. She is confident in the safety procedures Vons has implemented to keep everyone who visits the store healthy. Although work is not as fun as it used to be, she says, she is still happy to go to work. 
"Constant cleaning has made work boring at times, but I feel lucky to still be employed during the pandemic. Vons is doing a great job with helping all their employees successfully adjust during these tough times." Chesney said.
Leave a Comment
About the Contributor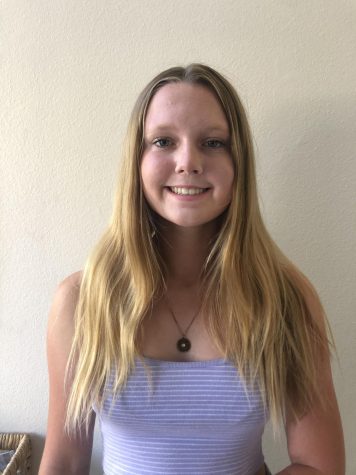 Sarah Shurtleff, Staff writer
Hi i'm Sarah Shurtleff. I am a freshman at Ruhs. I like to play softball. I also like to go to the beach. I am excited to be joining Journalism this year!