Thanksgiving Tofu
A little dish to be thankful for
Coming from a family that has never had to cook a whole Thanksgiving dinner before, I had to get a little creative. This recipe uses tofu and before you ask, no, I am not vegan and this will not be a 'tofurky' kind of situation. This dish works as a side to any traditional Thanksgiving meal, or even as a regular year-round snack. Grocery store tofu is bland, but luckily we have the gift of seasoning. Some people aren't a fan of the texture, but we can fix that too, all in this crispy baked tofu recipe. I guarantee it will make you rethink the 'tofurky' trope and make you love tofu that isn't trying to be meat.  
This is a recipe for a standard seasoned version of the dish, but you can coat them in gravy or cranberry sauce and even use it in stuffing. 
Prep time: 5 minutes + 15 if you press the tofu (recommended)
Bake time: 30 minutes 
You will need: 
1 package of Tofu (preferably extra firm)
1 tablespoon of Soy sauce 
1 tablespoon of Oil of your preference (avocado, olive, or sesame oil etc.)
1 tablespoon of Cornstarch
Salt, pepper, your choice of seasoning  
Recipe:
Pressing the tofu will allow for a crispier result so I highly recommend it. 
1. Place the tofu on paper towels or a lint free kitchen towel and cover with the towel again.  Leave underneath a pan or heavy object for 15 minutes to press down on the tofu getting the maximum amount of moisture out.
2. Mix together 1 tablespoon of olive (or sesame) oil, 1 tablespoon of soy sauce, add salt and seasoning (I added pepper, garlic salt, and umami).
3. Toss the tofu cubes in a large bowl with the sauce.  
4. Sprinkle one tablespoon of cornstarch over the top and mix well.
5. Lay the tofu out on a rimmed baking sheet, being careful not to overcrowd.
6. Bake for 30 minutes at 400 degrees fahrenheit, flipping the tofu half way through.
7. Serve and enjoy (or add some extra sauce of your choice!).
Leave a Comment
About the Contributors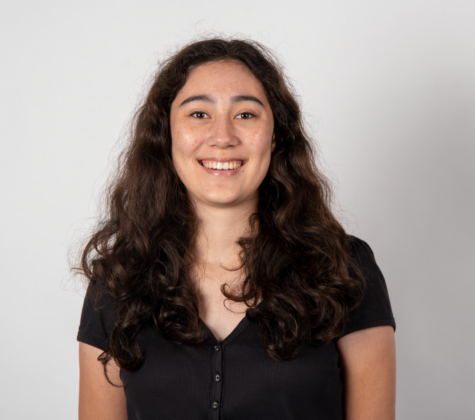 Emilie Takahashi, Features Editor
Hi! My name is Emilie, this is my fourth year on staff and did you know that green onions are super easy to grow in your backyard? Because I didn't know until I told my friend how excited I was about growing...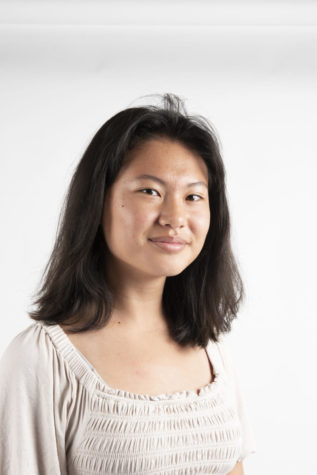 Chrissa Olson, Editor-in-Chief
I got this position based on my looks.