Ruby's Diner closes after 30 years of business
Due to COVID-19 dining restrictions, the popular Redondo Beach restaurant abruptly closed, leaving regulars shocked
An era of countless memories came to an end with the sudden closing of Ruby's Diner on Sept. 8, a result of COVID-19. After 30 years in business, the restaurant was forced to close after having difficulties with dining restrictions brought on by the virus. 
The diner, known for its retro decor and shiny red booths, has been located next to Seaside Lagoon since 1990, having become very popular among locals over the years. The closure phased many customers in the area, as well as the employees and workers, who it was especially tough on, according to the Daily Breeze.   
Many students were also "in shock" after hearing Ruby's had shut its doors, including sophomore Mia Calvo.
"When I heard about it I was very sad because it had always been a fun location for me and my friends to meet up," Calvo said. 
This restaurant has played a big role in Calvo's summers, and she loved biking there because the food was "really good."
"I always ordered an Oreo or strawberry milkshake and some chicken tenders with fries, which was my favorite," Calvo said. 
Calvo will miss the food a lot, but she'll miss the fun atmosphere and workers of the restaurant even more.
"They were just super cool and always really caring," Calvo said. "They would always try to go the extra mile to help you out, especially if there was an issue."
Calvo recalls a specific moment when she was there that truly resonated with her.
"One time when I was with my friends, everyone accidentally spilled their drinks on me, and the workers came to help immediately," Calvo said. "They were so nice and they gave us all new drinks, which I really appreciated."
Calvo also "enjoyed" being able to talk to the workers and getting to know them whenever they had any spare time. 
Aside from that, her favorite thing about the restaurant was its centralized location right next to the docks, making it a "great meetup spot."
"I always looked forward to going to Ruby's. You could always find a friend there, and have a good time and eat some good food," Calvo said.
In the future, Calvo hopes that they open a new Ruby's or a new restaurant in that location that she'll be able to go to, but she'll "never forget her experiences at Ruby's."
"It was just a great community overall and I just never had a bad moment at Ruby's," Calvo said.
Leave a Comment
About the Contributor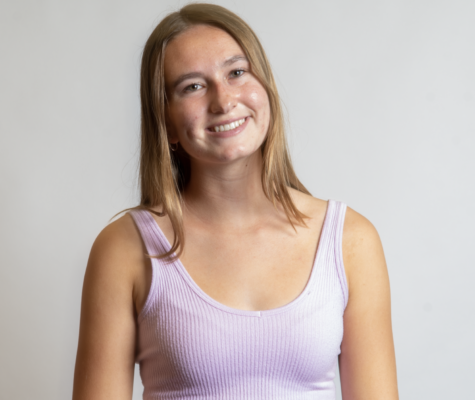 Erika Glass, News Editor
Second year news editor and avid milk drinker.