How to get Levain cookies at home
Katarina (Haven) Beches shares a recipe to make Levain's famous chocolate chip cookies at home
If you have ever been to New York, there is a high probability that you have heard of—or if you're lucky, even tried—the famous Levain chocolate chip cookies. These cookies are truly a phenomenon: they have cake and all-purpose flour for fluffiness, cornstarch for thickness, lots of nuts and chocolate chunks, an increased amount of melted butter that cools for precisely fifteen minutes and are baked for shorter increments of time in an incredibly hot oven! The result of these modifications is a delectable and heavenly cookie with a gooey center and a crispy caramelized outer layer.
I have sadly only eaten a true Levain chocolate chip cookie once in my lifetime, but I can assure you it was a life-changing and wondrous experience. Don't discount the magic of this cookie until you've tried it. Now, upon scrolling through YouTube for recipe ideas (as one does), I came across a surprisingly impressive copycat recipe for these cookies by Joshua Weissman. In just seven and a half minutes, he explains in easy-to-understand steps how to recreate these lovely cookies and they bear a stark resemblance to the Levain's. 
The full video can be found on Joshua Weissman's channel, and I highly recommend checking it out! The process does take more time than a classic chocolate chip cookie, but as with most things, taking the time pays off in the end. I can assure you that once you take your first bite of this cookie, you won't regret the time spent chilling in the fridge and staring longingly at the chocolate chunks. For your convenience, I have included a full list of ingredients below. Happy baking! 
Ingredients:
1.5 cups cake flour 

2 cups all-purpose flour

1.5 tsp kosher salt

2 teaspoons corn starch

½ teaspoon baking soda 

1 ¼  cups unsalted butter

1 ¼  cups brown sugar

½ cup white granulated sugar

2 eggs

3 egg yolks

2 cups walnuts (or pecans)

1lb chopped chocolate (buy a big block of this from TJ's! Dark chocolate is recommended)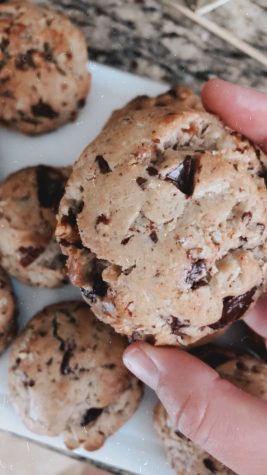 Directions:
Melt 1 ¼ cup unsalted butter on medium-high temperature. Let it cool while you combine other ingredients. 

Rough chop 1 lb of dark chocolate (or your preferred chocolate).

In a medium bowl, combine cake flour, all-purpose flour, salt, corn starch, and baking soda. 

In a standing mixer fitted with a whisk attachment (or in a large bowl with an electric mixer) combine brown sugar and white sugar. Slowly add in the cooled butter and whisk until smooth and creamy. Then, add the eggs (one at a time), and then add the egg yolks (also one at a time). Mix until creamy.

Switch to a paddle attachment (or use a spatula) to add the dry ingredients to the wet mixture until smooth.

Fold in walnuts (you can toast them if you want!) and chocolate chunks. 

Chill the dough for at least 45 minutes. The longer you chill the dough, the better the shape of the cookies will be.

Preheat oven to 425 degrees Fahrenheit

*

Shape 6-ounce cookie dough balls (about the size of a very large ice cream scooper) and arrange them on a cookie sheet lined with parchment paper or a silicone sheet. 

You can choose to refrigerate for an additional 25 minutes after the cookies are formed to ensure the shape.

Bake in an oven set to 425 degrees Fahrenheit for 10-15 minutes or until lightly browned on the outside. DO NOT OVERBAKE! This will ruin the entire gooey on the inside and crispy on the outside effect! You can let the cookies cool for 5-10 minutes before admiring your snazzy baking skills! Enjoy the cookies! 
*if you are going to chill the formed dough balls for an additional 25 minutes, wait on this step
Leave a Comment
About the Contributor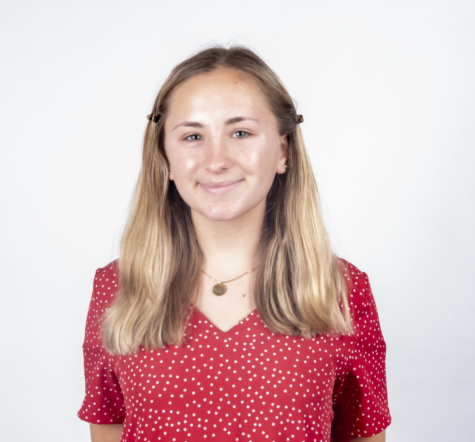 Katarina (Haven) Beches, Editor In Chief
Time is valuable. Don't waste it reading my bio. Read my porn story instead (click print edition, sex issue, center spread).